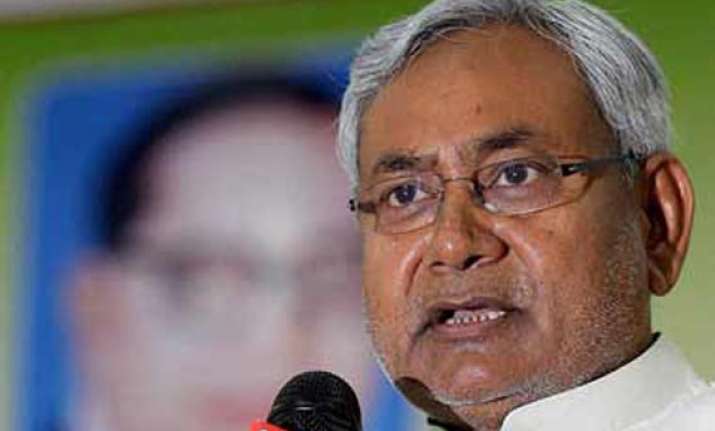 New Delhi, Jun 17: Wading into BJP politics, Bihar Chief Minister Nitish Kumar today accused his estranged ally of "betraying" and "cornering" elders in the party in an oblique reference to the sidelining of L K Advani over the Narendra Modi issue.
"Those who have betrayed and cornered their own elders have no right to point fingers at others. Those who cannot respect their elders and sideline them within the party have no right to blame us," Kumar told reporters emerging from his "Janata ke darbar me Mukhya Mantri" programme at his residence here.
He further went on to take a dig at the elevation of Narendra Modi as the poll campaign head and said that, the "Atal Bihari Vajpayee-L K Advani era is over in BJP," adding that, "We cannot reconcile with new era."
Advani was miffed over Modi being anointed the party's campaign commitee chief, an event that triggered the split within the NDA with the JD(U) seeing this as the first step before the Gujarat Chief Minister is named as BJP's Prime Ministerial candidate for the 2014 Lok Sabha elections.
Asked whether the fate of veteran socialist leader George Fernandes within JD(U) was similar to that of Advani, Kumar said, "It's not true...He (Fernandes) is bed-ridden and we every now and then visit him to know about his health."
Some of his so called well wishers advised him to fight the 2009 Lok Sabha elections (from Muzaffarpur in Bihar) despite his ill health. These well wishers ran away from him after his defeat."
"Later I approached him and asked if he would like to go to Rajya Sabha to which he agreed and accordingly JD(U) sent him to the Upper House," he said adding, "JD(U) believes in respecting elders."
Rejecting BJP's charge of betrayal, Kumar blamed the saffron party for "creating an environment" in which his party had to leave the NDA and criticised it for misinterpreting his old speech at a Railway function in Gujarat in Modi's favour.
"Kya vishwasghat kiya (what betrayal have we done). They have actually betrayed us by creating an environment in which our staying with them was not possible," he said.
Kumar said his party's decision to snap ties with the BJP was "not taken in a haste" and it happened after "due deliberations" and at the "appropriate time".
The JD(U) leader said, "further waiting over it would have been cheating onself" as the central leaders of BJP were not ready to give any assurance and were only asking us to put on hold a decision on the split.
"Our parting of ways with the NDA is BJP's failure. You created a situation in which the old allies walk away. An alliance does not run under compulsion.
"If you do not leave any way out for the ally...If any party wants to form a government (at the Centre), the responsibility is of that party to get support of other parties if it is not in a position to get the numbers on its own. And here an old ally was forced to leave," Kumar said.
To the charge that he as a Railway minister at a function in Gujarat in 2003 had praised Modi for good work, Kumar said, "The protocol says that in government function a union minister is not supposed to criticise a state government."
"As a union minister are we suppose to make political speech at an official function?" Kumar asked when reminded about an old CD containing his speech at Kutch.
"Besides, this shows I have been so important to them and now have become a cause of worry," he said.
Asked about the prospects of JD(U)'s alliance with Congress, Kumar said "door ki baat hain" (it is premature to talk about it).
"My immediate concern is how to go ahead fulfilling the trust of the mandate people have given us in state Assembly in 2010," he said.
"I am endowed with this responsibility and will make all efforts to fulfil the promise made to the people," he said.
With BJP in Bihar announcing to observe a "Vishwaghat Day" tomorrow to protest JD(U) splitting NDA, Kumar said "I have no complaint against state BJP leaders. We stayed together and worked for the welfare of the people but external forces on which they had no control destroyed this."
Stating that he was forced to take the hard decision of sacking 11 BJP ministers, Kumar said, "I personally called Sushil Kumar Modi and Nandkishore Yadav for talks.
"They had agreed to come, but when we were waiting for them, a telephone call came from them saying they were not coming because of an interview quoting me as saying that BJP should declare its PM candidate," he said.
On RJD President Lalu Prasad and also a section of state BJP leaders describing him as an "opportunist" for breaking ties now for political gains, he said, "The then Samata party had entered into ties with BJP in 1996 to check division of votes among parties opposed to Lalu Prasad."
"But, still we did not join the 13-day government of Atal Bihari Vajpayee. When an agreement was reached in 1998 that controversial issues like Ayodhya would be kept aside we became part of Vajpayee government in 1999," he said and asked people to do research before becoming analysts.
On the view that RJD may gain from the JD(U)-BJP break-up, Kumar said "nafa nukshan ki kya parvah karna jab hallat aise bun gaye" (why should we worry of loss or gain when situation has come to such a pass).
On the future of his government, Kumar said, "Governor D Y Patil has called a special session of state Assembly on June 19 in which my government will take a confidence vote."
Despite split in NDA, there is not much cause of worry for Kumar as his party has 118 MLAs in the 243-member House, four short of the half-way mark.
Five out of the 6 Independents have pledged their support to the JD(U). Only one Dilip Verma from Sikta in West Champaran has said he would side with BJP saying "the country needs Narendra Modi today."
BJP which would now sit in opposition has 91 MLAs, while RJD has 22, Congress 4 and LJP and CPI one each.
Reports suggest that Congress and RJD might abstain in the confidence vote for reasons that they would not like to be seen voting with BJP.
Referring to the telephonic talk with the state BJP leaders, Kumar said, "I did not give any interview to any newspaper. Everybody is running stories referring to our statements claiming it to be their exclusive news."
"Even if so, was there anything new in that news? We have been asking BJP, largest party within NDA, to declare its Prime Ministerial candidate which they did not," he said.
"I was prepared to separate peacefully according to the way suggested by them but they did not come despite friendship of so many years.
"The events in BJP national executive meet at Goa left nobody in doubt that the new age leadership with divisive outlook has taken over that party," he said.
"Writing was clear on the wall. After reading it, waiting for time would have been like betraying ourself," Kumar said.
Kumar, under whose leadership NDA had won 32 out of 40 Lok Sabha seats in 2009 (JD-U 20 and BJP 12), said that the responsibility of keeping NDA intact was on the shoulders of the largest party BJP.
"Instead of taking encouraging steps to enlarge the NDA convass by paving way for more parties to join it they are creating a situation in which an existing partner has to walk away," Kumar said.
"Alliance is not made on the basis of majboori (helplessness)," he said.