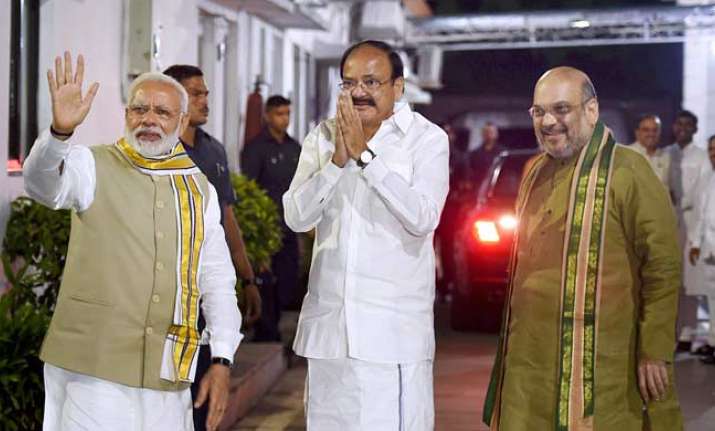 NDA's vice-presidential nominee Venkaiah Naidu is often seen defending the BJP-led government on issues that seem to push it on the backfoot. Once a protege of LK Advani, Naidu vigorously backed Narendra Modi for the prime minister's post before the 2014 elections. A loyal Modi supporter, Naidu shares prime minister's penchant for acronyms and is often seen coining them. 
Naidu, who held the portfolios of Information and Broadcasting and Housing and Urban Affairs in the Modi cabinet, even has a parody twitter account dedicated to his love for acronyms. 
Naidu once famously coined a reverse acronym of MODI, prime minister's second name, as "Maker Of Developed India". The four-time Rajya Sabha member's acronym for NDA government's mission - 'MODI- Making of Developed India'- became the official line of the Centre in its public outreach campaign when it completed three years in office. In another instant which showed both his love for Modi and acronyms, Naidu called PM Modi the "Modifier of Developing India." 
In February, Naidu, while addressing a young crowd at Delhi's Shri Ram College of Commerce business conclave, coined another reverse acronym, this time for "Young."
The I&B minister said, "Young" means "You Owe U & Nation Greatness". A month later, the Urban Development Minister said, "CITY means Civic Infrastructure To You." 
'Venkronym Naidu'
In May, Naidu's ministry's Twitter handle retweeted a post by the minister's parody account and realised its mistake only 24 hours later. The parody account @VenkronymNaidu follows only one Twitter handle - Ministry of Housing. The profile came into existence as recently as March and its bio describes "NAIDU" and as "National Acronym Innovation & Design University (NAIDU)." The twitter account recognises itself as "PARODY" or "Pradhanamantri Acronyms Replied On Demand Yojana."
The twitter account makes reverse acronyms of names of political leaders and mocks acronyms coined by different government departments.