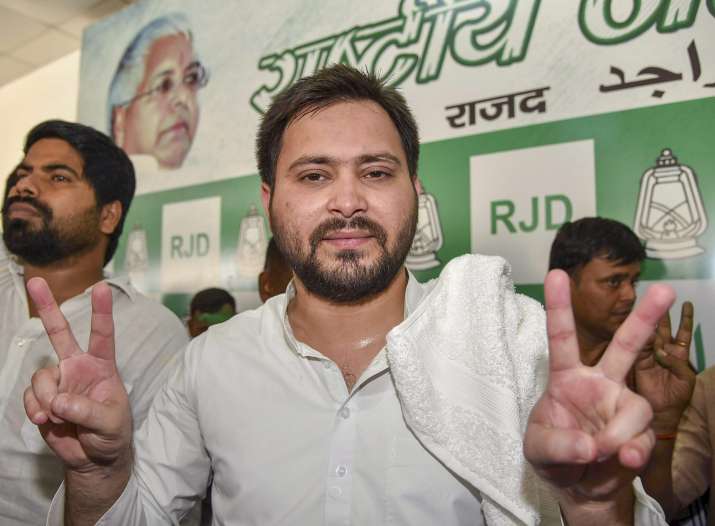 Seeking to rub salt on the wounds of Janata Dal (United) and its leader Nitish Kumar after Assembly bypoll results, Rashtriya Janata Dal (RJD) leader Tejashwi Yadav on Friday said that Bihar CM is afraid of Prime Minister Narendra Modi. Tejashwi described the Assembly bypoll defeat as a trailer and added that the 'movie' is yet to be screened.
Questioning Nitish Kumar's silence over JD(U)'s defeat in Jokihat Assembly bypoll, Tejashwi, in his Bhojpuri tweet, asked Nitish whether the election defeat would shake up his conscience or he will continue to ignore RJD's popularity.
Tejashwi said Nitish Kumar, whom he addressed as chacha (uncle) in his tweet, should see it for himself what made people vote in favour of the Mahagathbandhan in 2015. Nitish Kumar walked out of the Grand Alliance or Mahagathbandhan in July 2017 to join the NDA camp again. Tejashwi was Nitish's deputy in the Grand Alliance government.  
RJD candidate Shahnawaz Alam defeated Murshid Alam of JD(U) by over 41,000 votes in Jokihat Assembly bypoll, result for which was announced on Thursday, May 31. 
का नीतीश चच्चा जी..! अंतरात्मा अभिओ जागी की ना....कि अभिओ मोदीजी के डर से अंतरात्मा सुतले रही?

चुप काहे बाड़ऽ चच्चा..? ई बचवा तऽ सभे चुनऊवे जीतऽता, कहँवा गईल तोहार चमक??

अब समझ मे आ गइल की 2015 में केकरा नाम प वोट मिलल रहे?

इ तs ट्रेलर हईं..शुरूआत हईं, फ़िल्म बाक़ी बा..

— Tejashwi Yadav (@yadavtejashwi) June 1, 2018
Jokihat seat in minority Muslims dominated Araria district of Bihar was held by JD(U) during the 2015 state elections.
The Jokihat bypoll defeat has come as a jolt to Chief Minister Nitish Kumar who dumped RJD and Congress last year to join hands with BJP to form a new coalition government in Bihar. JD(U) had registered three consecutive wins at Jokihat before.