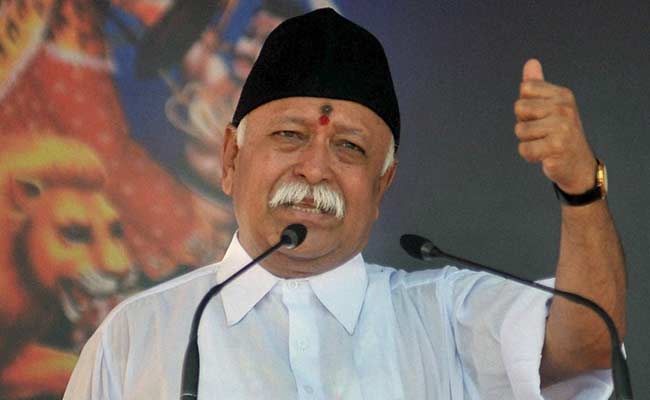 RSS supremo Mohan Bhagwat has hailed India's "surgical strikes" on terror launch pads across the Line of Control (LoC) describing army's action as one which "all were waiting for". 
"What we all were waiting for has now happened," he said at a function on Thursday to commemorate the 1,000th birth anniversary of Kashmir's philosopher Acharya Abhinavagupta her
Bhagwat lauded the role of all who participated in the operation that destroyed terror camps across the LoC in PoK. 
"On all our behalf..., all those who were required to be complimented have been lauded. I repeat the compliments," he said after Art of Living founder Sri Sri Ravishankar congratulated the defence forces for the surgical strikes. 
Meanwhile, Sangh's head of communications department Manmohan Vaidya said, "RSS wholeheartedly congratulates Indian Army." 
"By conducting successful surgical strikes on terrorists launching pads in PoK, Indian Army has proved its capability. Congratulations, Indian Army. 
"Keeping aside our internal differences, the entire country is in support of the Indian government in any such action," Vaidya said in a message. 
In a first, India carried out surgical strikes on seven terror launch pads across the LoC with the Army inflicting "significant casualties" on terrorists preparing to infiltrate from PoK, days after Prime Minister Narendra Modi warned Uri attack would not go unpunished. 
Seven terror launch pads across the Line of Control (LoC) were targeted by the Army on the intervening night of September 28 and 29 in a nearly five-hour-long operation during which heliborne and ground forces were deployed, Defence sources said today. 
They said the launch pads in Pakistan-occupied Kashmir (PoK) were in the range of 2 to 3km from the LoC and were under surveillance for over one week while Union Minister M Venkaiah Naidu said the strikes targeted 5-6 places along Kupwara and Poonch in Jammu and Kashmir. Naidu said there was no casualty on the Indian side.
(REOPENS DEL115) 
At the "Abhinav Sangam" at Jawaharlal Nehru Stadium here, Bhagwat paid rich tributes to Acharya Abhinavgupta and exhorted the people to follow the teachings of the Acharya and not practise any kind of discrimination including that on the basis of caste. 
"The teachings of both Acharya Abhinavgupta and Lord Buddha are that there is no place for 'bhed bhav' (discrimination) of any kind. We have to destroy all kinds of discrimination in our life and attitude, be it on caste or other basis," he said, recalling that he sees discrimination even in education these days. 
The RSS chief said if the youth of the country work hard and follow the age-old traditions, then this knowledge will flow everywhere across the world. 
He said the status of all was of being Indians and everyone has to work for attaining knowledge so as to inspire the coming generations. 
He also gave the message of the ideals of life and teachings of Acharya to awaken people of the country and cited the example of Lord Buddha who also gave the same message. 
Earlier, Ravishankar congratulated the defence forces and Indian Prime Minister for the strikes. 
"I would first congratulate our bravehearts. I also congratulate the Prime Minister for this," he said, adding that 'Shaastra' (scriptures) and 'Shastr' (weapons) help protect 'shanti' (peace). 
The Art of Living founder said both 'hosh' and 'josh' are required and both are being seen in our country today. 
Acharya Abhinavagupta, a great devotee of Lord Shiva, has been recognised as one of world's greatest philosophers and literary critics. Best known as the proponent of Kashmir Shaivism, Abhinavagupta also authored many books on 'tantra' and theatre.
PTI inputs