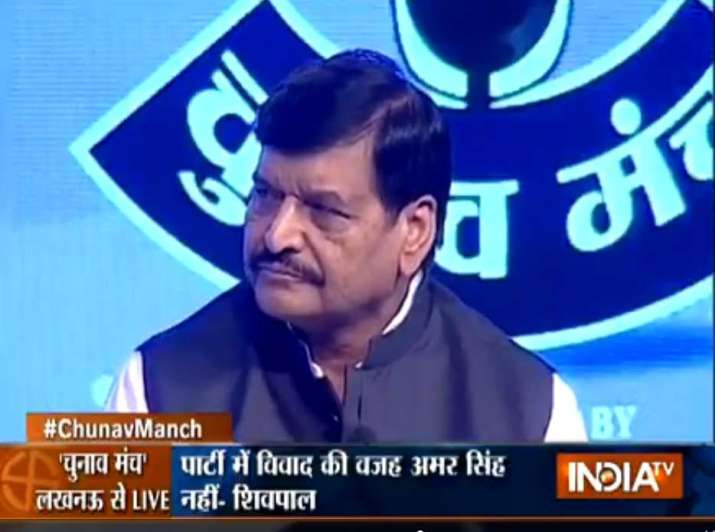 Shivpal Singh Yadav today said that anybody sitting in the chair of Chief Minister should not be arrogant and that the post demands more experience and tactfulness.
"Anyone sitting on the chair of the CM should not be arrogant. Akhilesh needs more experience. he ought to learn from me also," Shivpal said speaking at India TV conclave 'Chunav Manch' in Lucknow, He was responding to a remark made by Akhilesh alluding the rift within the party to the chair he holds. 
"He needs to tactfully deal with others as not everybody could be Akhilesh Yadav," he added.
Shivpal, who is at loggerheads with his nephew and UP CM Akhilesh, yesterday stepped down from all party posts as well as the state government deepening the ongoing crisis in the state's ruling party.
Indicating that he will continue as Samajwadi Party Uttar Pradesh State President, Shivpal said, "The responsibility given to me is huge. I need to work harder as elections are near".
When asked about Akhilesh's demand for authority to take a call on ticket distribution, Shivpal said, "How elections are fought are prerogative of the party chief and Netaji (Mulayam) will decide on ticket distribution."
Shivpal also defended party leader Amar Singh amid reports of him stoking unrest in the party and family, saying," Amar Singh can never cause any harm to our family." 
Referring to the 'outsiders' Akhilesh has blamed for the unrest in the party, Shivpal said such people are present on both sides and that they need to dealt with tactfully. 
"Outsiders are with every body they are not only with me they are with Netaji also, they are also with Akhilesh, so he should not think that outsiders are creating rift in the family." 
Shivpal further indicated that the person causing the misunderstanding could well be with Akhilesh Yadav. "Even Akhilesh is surrounded by such people. In fact, some of them are ministers that don't even work," Shivpal said.
On September 13, Mulayam removed Akhilesh from the post of the party's state chief and named Shivpal in his place. In retaliation, Akhilesh stripped Shivpal of four key portfolios, striking a huge blow to his uncle's public image. 
When quizzed about the recent developments, Shivpal said that there have been some misunderstandings and that all concerns have been addressed with Mulayam, who will take a final call tomorrow.
Shivpal further underscored that the SP was one unit and there was greater vigour among the party cadre to conquer the 2017 elections.
He further said that he harbours no ambitions to become chief minister and that he supported Akhilesh when the party came to power in 2012. He further asserted that he will support Akhilesh for the CM's post if the party returns to power in elections next year.
Meanwhile, all eyes will now be on Mulayam Singh Yadav who is going to spell out a few crucial party decisions tomorrow.