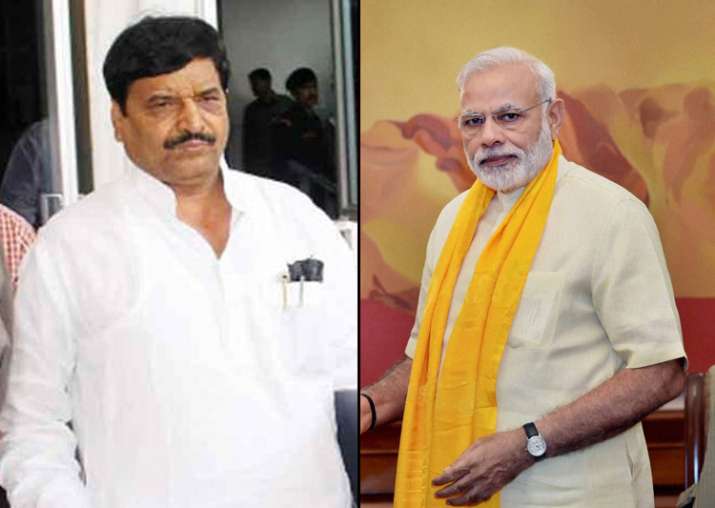 They may not be on the same side of the fence as far as political ideology is concerned, but these differences do not appear to have too much of a bearing when it comes to one of their own. It is perhaps rightly said that there are no permanent "friends" or "enemies" in politics.
In a rare show of camaraderie, the government accepted the request of senior Samajwadi Party leader Shivpal Singh Yadav seeking to depute his son-in-law Ajay Yadav to the Uttar Pradesh cadre.
Last year, the Uttar Pradesh PWD minister had written a letter to Prime Minister Narendra Modi urging him to depute his son-in-law Ajay Yadav, a 2010-batch IAS officer of the Tamil Nadu cadre, to Uttar Pradesh.
In the letter, the SP leader requested PM Modi to relax certain rules of deputation for his IAS son-in-law. Notably, Yadav's requests for deputation were rejected on grounds that he had not fulfilled the minimum criteria of spending nine years in his parent cadre required for the purpose.
 
However, on October 28, 2015, the Prime Minister-headed Appointments Committee of the Cabinet (ACC), which decides appointments to several top posts under the Government of India, relaxed the rules and considered Yadav's case as a "special" one.
The Cabinet subsequently approved the proposal for inter-cadre deputation for a period of three years on personal grounds.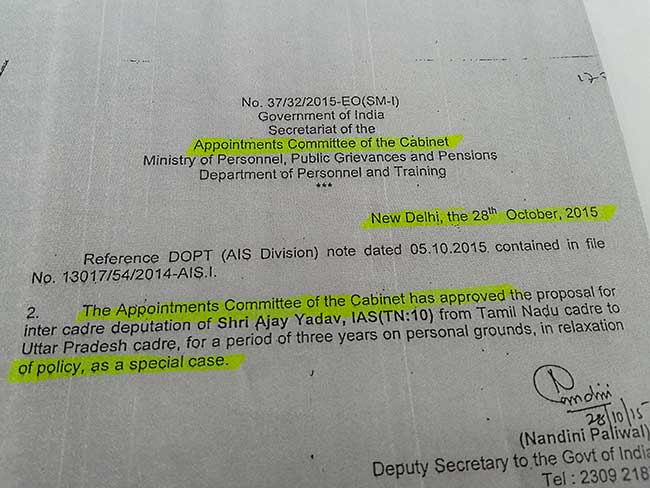 It is worth mentioning here that the Centre's Department of Personnel and Training (DoPT) had thrice turned down Yadav's request to depute him to his home cadre of Uttar Pradesh. But after Shivpal's intervention, the Prime Minister amended the rules and approved Yadav's request on "personal grounds in relaxation of policy, as a special case".
Yadav had first moved his plea for short-term deputation to his home state from Tamil Nadu in November 2014, citing personal reasons. But his request was turned down by the DoPT saying "he hasn't completed minimum nine years period in his parent cadre".
The second and third requests from Yadav came in June and August last year, which too were rejected by the DoPT.