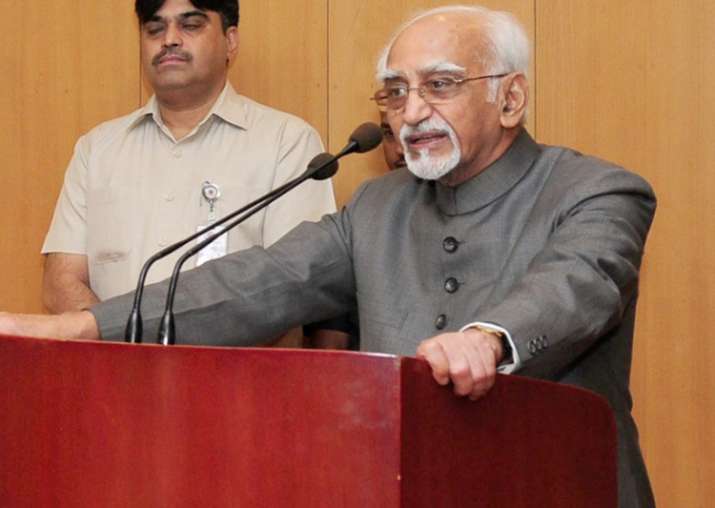 The Rajya Sabha today heaped lavish praises on Chairman Hamid Ansari, who relinquishes office after a decade, with Prime Minister Narendra Modi and other senior members lauding him for upholding constitutional norms. Praising Vice President Ansari, Modi said the Chairman did his best to uphold the Constitution. The Vice President is the Chairman of Rajya Sabha. 
The Prime Minister said the Chairman's experience as a career diplomat would have helped him in conducting the business of the Upper House. Modi said he too had benefited immensely from Ansari's insights on diplomatic issues on several occasions. 
The Prime Minister noted that Ansari's family has had an illustrious history of over 100 years in public life. Conveying his best wishes to Ansari and wishing him a long life, Modi said the outgoing chairman has also kept himself physically fit. 
Leader of the House and Finance Minister Arun Jaitley said, "In the life of this House, today is very important occasion. We are bidding farewell to you after you complete 10 years as the distinguished Chairman of this House." 
Jaitley said the House witnessed both disruptions as well as high quality debates during the tenure of Ansari. Noting that the job of the chairperson of the House was "a very challenging and thankless job", he said while the political character of the House has changed, "nothing remains indefinitely held up" and a consensus is eventually reached. 
Leader of Opposition Ghulam Nabi Azad praised Ansari for the way he conducted the proceedings of the House. Recalling his long association with Ansari, Azad said the Chairman was given several honorary degrees by different countries, but he never used them. 
SP member Ram Gopal Yadav said Ansari conducted the House without any discrimination and never allowed any legislation to be passed in din. He hoped the next Chairman too would continue the tradition. 
Trinamool Congress leader Derek O'Brien told the House that Ansari does Yoga and routinely goes for evening walks to maintain good health. He said Ansari has been eating sandwiches at lunch for the past 40 years and it "must be a world record". He appreciated Ansari for extending the working hours of Rajya Sabha from 5 pm to 6 pm. 
CPI(M) leader Sitaram Yechury also hoped that in future too legislations would not be allowed to be passed amidst din. He said Ansari's decision to shift the Question Hour timing from 11 am to noon has yielded good results as more questions are now taken up. Yechury also appreciated of Ansari's initiative of starting the Rajya Sabha TV channel. 
Hamid Ansari, who demits the office today, was elected as the Vice President of India on 10 August 2007 and took office on 11 August 2007. He was re-elected on 7 August 2012. Ansari is also the first person to be re-elected as Vice President after Sarvepalli Radhakrishnan in 1957.