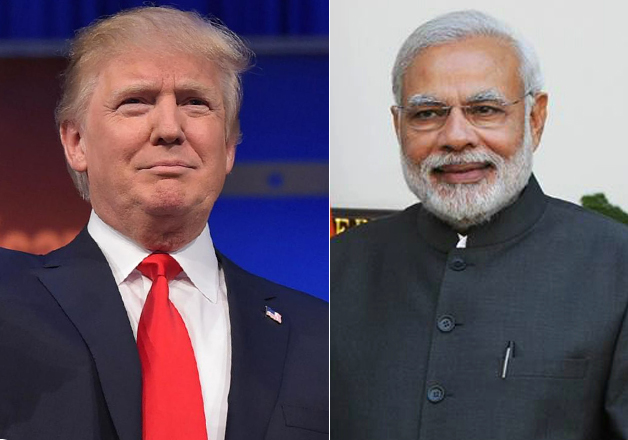 In a bid to maintain the momentum in bilateral ties with the United States, Prime Minister Narendra Modi is likely to visit Washington as early as in May to meet President Donald Trump.
According to a report in Times of India, though the two leaders are set to meet on the sidelines of the next G20 summit in Hamburg in Germany, it wouldn't be a bilateral meeting. The 12th G20 Summit will be held on July 7 and 8.
The visit appears to be on the cards as recently US Defence Secretary James Mattis and Secretary of State Rex Tillerson have spoken to their Indian counterparts Manohar Parrikar and Sushma Swaraj, respectively.
The talks between the bigwigs of both sides were keenly watched in media with some saying that the Trump administration wanted to proceed on the defence-security relationship and people-to-people contact which increased substantively following the change in India's leadership in May 2014.
Trump's National Security Adviser (NSA) Mike Flynn, who had to quit earlier this week because of his 'secret' links with rival Russia, had already met Ajit Doval in the early days of the Trump administration.
The report claimed that both sides are keen to have an early bilateral meeting and that in recent weeks, Modi and Trump have had another longer talk on the phone during which they talked about issues of mutual interest including defence and security, economics and trade.
Earlier on January 25, the leaders of the world's two greatest democracies spoke over phone. According to White House, Trump had described India as a 'true friend of the US' and invited the Prime Minister to visit Washington later this year
The report of the PM's visit comes in the midst of fears that Trump may sign a new executive order to curb the H-1B Visa programme that may hit the Indian IT companies and workers. The report claims that New Delhi and Washington have begun quiet talks to get a better understanding of each other's positions on the matter.
This will be Modi's fourth visit to America after he took over as the Prime Minister of India. 
The first time he made a visit was in 2014 for bilateral talks with then President Barack Obama. The following year, he visited the US to address the United Nations General Assembly. 
During his last visit in 2016, the PM had addressed a joint session of the US Congress.