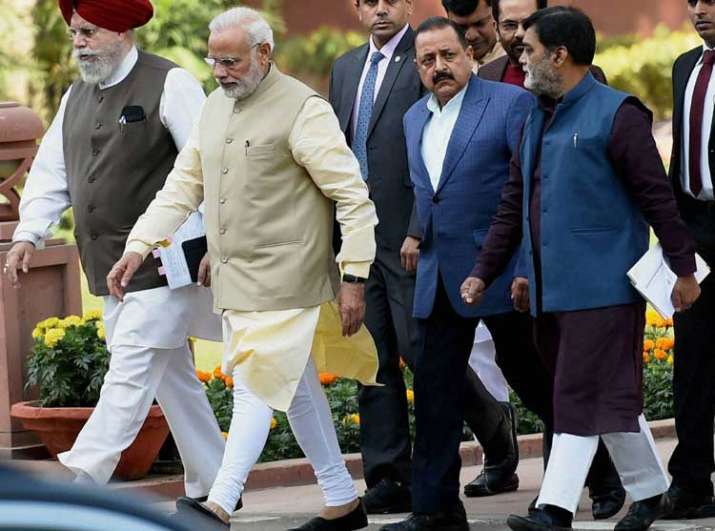 In a veiled attack at his opponents targeting him over the demonetization move and the hardships that it has caused to the people across the country, Prime Minister Narendra Modi today said that he found it unfortunate that people in public life had mustered the courage to speak out in support of black money and corruption. 
"Values in public life are eroding... I see that people in public life are giving speeches in support of corruption and black money. They are brazenly out in open doing so. In any country, erosion in values is the biggest crisis," he said. 
"Coming generations will not forgive those who are betraying the values," he said, speaking at the release of a book published in memory of late party veteran Kedarnath Sahni, who was a prominent leader in Jan Sangh and then in BJP in Delhi. 
One should be spotless in public life, Modi said, citing Sahni as an example. 
There is need to stand against this mindset to compromise with loss in values, he said, adding it is one thing if some people do not have strength to fight it and totally another to carry aloft the "flag of evils". 
He recalled that Sahni gave shelter to numerous Sikh families at his home and mobilised party workers and others to help them during the riots in the wake of Indira Gandhi's assassination. 
All are aware of the attitude of the then government, he said targeting the then Congress government, and alleged that "human slaughter" happened at that time and families of Sikhs were butchered.
 
As the demonetisation entered the third week,the political fight further intensified today with an united opposition deciding to hold protests in Delhi tomorrow while BJP decried alleged "malicious" attempts by those opposing the drive to provoke violence and chaos. 
Continuing her tirade against the Modi government, West Bengal Chief Minister Mamata Banerjee said she would also stage a dharna in Delhi tomorrow and appealed to other opposition parties to register their protest on the roads. 
Delhi's Deputy Chief Minister Manish Sisodia and his cabinet colleague Kapil Mishra were detained when they tried to march to Parliament from Jantar Mantar protesting demonetisation. 
Before beginning the march, Sisodia launched an attack on Prime Minister Narendra Modi, alleging he is making people cry and shedding "crocodile tears". 
Congress Vice-President Rahul Gandhi also took a jibe at Modi, saying that if he can speak on TV and pop concerts then why not in the Parliament. 
Key BJP ally Shiv Sena also escalated its broadside against the BJP with party chief Uddhav Thackeray saying the senior ally should stop branding people as patriots or anti- nationals as per its "whims and fancies" while responding to criticism of the cash clean-up drive. 
Opposition parties today held a strategy meeting here. Mohd Salim (CPI-M) said street protests are also on the agenda. 
Leaders of various parties, including those from Congress, Trinamool Congress, JD(U), CPI(M), CPI, NCP and RJD attended the meeting to further their joint strategy to corner the government in the ongoing Winter session. 
Condemning "malicious" efforts of rival parties, a resolution adopted at a meeting of BJP Parliamentary Party alleged that they are desperate to provoke violence and chaos as they have been "rattled" by people's wide support to the decision.