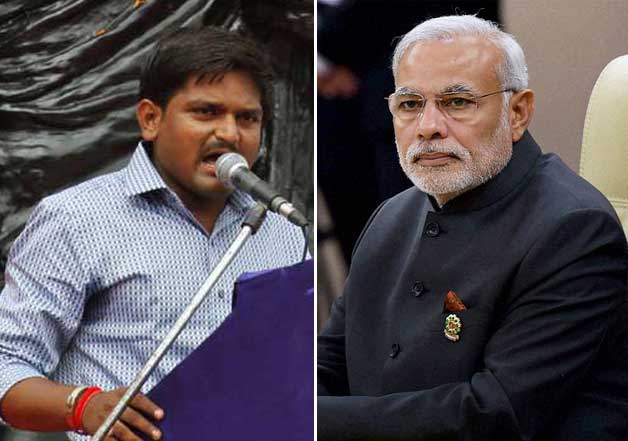 Hardik Patel, the convener of Patidar Anamat Andolan Samiti (PAAS), has accused Prime Minister Narendra Modi of using the 'patidar' community for orchestrating the Gujarat riots of 2002 when he was the Chief Minister of the state.
According to a report published in Hindustan Times,  Hardik has written a letter to PM Modi in which he has reportedly mentioned six cases relating to the 2002 riots win which a large number of people from  'Patidar' community have been convicted and awarded life imprisonment.
Hardik , who led the quota-stir for patidars in Gujarat, has written this letter from Udaipur where he is in six-month exile in accordance with the bail condition of the Gujarat high court in connection with a sedition case.
The letter dated August 24 starts with subject 'Modiji you have stabbed the Patidars in the back'.
"We all know that Narendra Modi has orchestrated the 2002 riots. Reaping the benefits of the communal riots, first he became the CM and then went on to become the PM," HT quoted Hardik as writing in the letter.
"Patidars who were accused in these cases are languishing in jails. When Modiji is PM now, he can seek clemency from the President for the accused Patidars. But he won't do so now as he wants to project himself as a secular person to India and the world," he added.
Hardik Patel  was booked for sedition in October 2015 after he launched an agitation demanding reservation benefits for 'patidars' in college admissions and government jobs.
13 patidar youths lost their lives in this agitation while public properties to the tune of Rs 44 crore were damaged.
Hardik Patel was arrested and put behind bars for nine months before he got bail in July this year with the condition to staying outside Gujarat for six months.