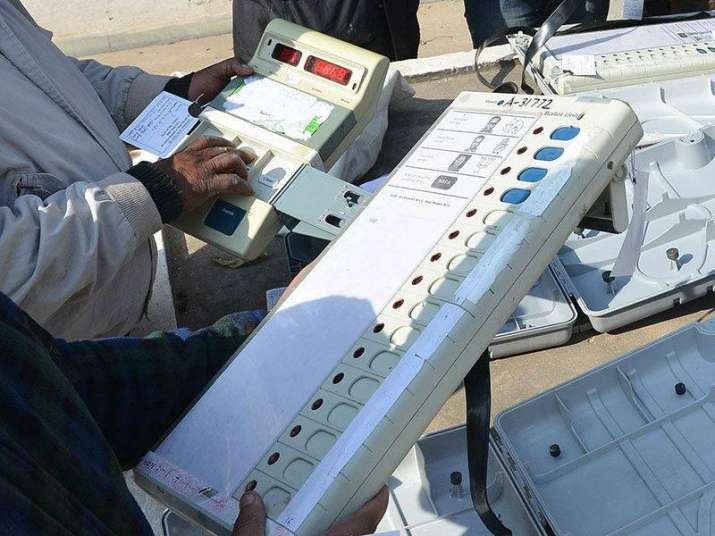 Sixteen Opposition parties today urged the Election Commission to revert to the paper ballot system, claiming the faith of the people in the EVMs has "eroded". 
Representatives of parties including Congress, BSP, DMK, Trinamool Congress and the Left met top EC officials to demand reintroduction of the ballot paper system. 
The poll watchdog, which has vouched for the reliability of EVMs, said it would soon convene an all-party meet to discuss the issue, senior Congress leader Kapil Sibal and DMK leader T Siva told reporters after the meeting. 
Leaders of the opposition parties today met in Parliament and decided to jointly meet the Election Commission, demanding that their concerns on the issue be addressed. 
Voter ko vishwaas hona chahiye ki woh jisko vote de rahe hain, vote unhi ko jaaye: Kapil Sibal, Congress on EVM issue pic.twitter.com/OOJHe4X6Ji

— ANI (@ANI) April 10, 2017
The opposition leaders decided to put forth their demand before the EC for simultaneous use of VVPAT (paper trail of voting) and ballot paper in 50 per cent constituencies each for elections in Gujarat and Himachal Pradesh slated later this year. 
"This will help check the voting system and dispel all doubts about their use in elections," said a leader. 
The Opposition's action comes a day after media reports stated that a few machines, used during the bypoll in Rajasthan's Dholpur, may have been "tampered with".
Lost trust in EVMs,old system of paper ballot must be restored: GN Azad(Cong) after opposition parties' delegation met EC officials in Delhi pic.twitter.com/lcSBgYOF1S

— ANI (@ANI) April 10, 2017
Opposition leaders have been demanding that VVPAT be introduced in all future elections. The Congress has also been pushing for use of ballot papers instead of EVMs in upcoming elections in view of the alleged tampering. 
The parties are demanding that the EC dispel the apprehensions they have and reassure the people of the country and voters on the serious issue. 
The opposition parties observed that free and fair elections are the basic founding blocks on which the entire edifice of country has been maintained. "Any erosion of these basic principles which sustain this edifice needs to be addressed forthwith and in the right 
earnest," said another leader. 
The opposition parties, including arch-rivals the Left and the TMC, will meet the EC. 
Among those present at today's strategy meeting held at Leader of Opposition Ghulam Nabi Azad's chamber in Parliament included Congress leaders Ahmed Patel, Anand Sharma, Kapil Sibal and Vivek Tankha, besides JDU leader Ali Anwar Ansari, TMC leader Sukhendu Sekhar Roy, BSP leader Satish Misra and SP leader Neeraj Shekhar. 
NCP leader Majeed Memon, CPI leader D Raja, CPI-M leader C P Narayanan and RJD leader J P Narain Yadav were also present during the meeting and all decided to strongly raise the issue with the EC.
EC helping BJP win elections, says Kejriwal 
Launching an attack on the EC over alleged EVM manipulation, Delhi Chief Minister Arvind Kejriwal today claimed that the poll body was acting like "Dhritarashtra" to help son "Duryodhana" (BJP) win the polls. 
He alleged that the Commission's only intention was to bring the BJP to power in poll-bound states and that is why it was not paying heed to his request to investigate defective EVMs. 
Mamata bats for use of ballot paper in upcoming polls 
West Bengal Chief Minister Mamata Banerjee today urged for the replacement of EVMs with ballot paper, saying "old is always gold". 
"EVMs can be tampered with, so let's go back to the old system," Mamata said here in an informal interaction with media. 
"If there is any doubt (on EVMs) then let's opt for ballot paper," the TMC supremo said. 
"The EC has to abide by the democratic process...when so many political parties are raising it. The EC has to increase its staff strength for counting," she said. 
(With PTI inputs)