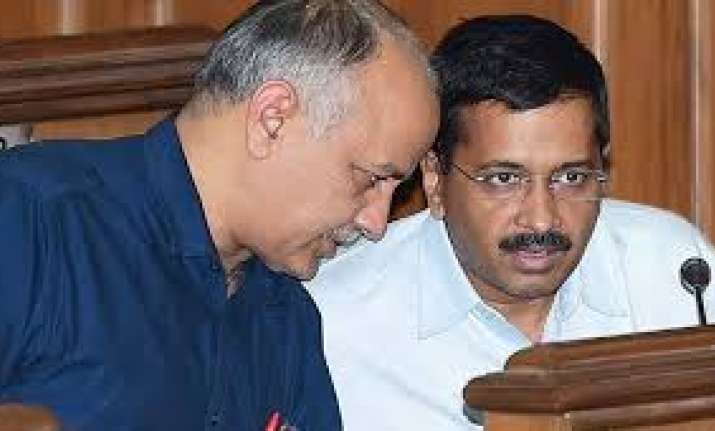 The year 2017 is expected to be one of the most crucial years for the Arvind Kejriwal-led Aam Aadmi Party as it tries to shed its "regional party" tag. Eyeing three major poll-bound states of Punjab, Goa and Gujarat, AAP hopes to "emerge as an alternative" to both the Congress and the Bharatiya Janata Party. 
Last year was marked by the party's heightened bickering with BJP as Delhi Chief Minister Arvind Kejriwal raised questions about Prime Minister Narendra Modi's academic qualifications, levelled serious corruption charges against him and mounted a spirited attack on his government over demonetisation.
Talking about AAP's priority this year, senior leader and Delhi Deputy Chief Minister Manish Sisodia said the main focus will be to wrest power in the three crucial states going to polls next year and consolidate the party's position nationally.
"AAP's vision for 2017 is bagging Goa, Punjab and Gujarat. This year, big elections will be held. We are fully confidentof forming governments in Punjab and Goa and thereafter we will make preparations for Gujarat Assembly polls," Sisodia told PTI.
Kejriwal has been making frequent trips to Punjab and Goa over the past few months and has also addressed public meetings in Prime Minister Modi's home state of Gujarat. However, the party is not contesting in Uttar Pradesh and Uttarakhand, which are also going to polls along with Punjab and Goa.
"There is Himachal (Pradesh) as well. AAP will focus on all states where polls will be held. Plus, the demonetisation crisis is not going to end. We are going to make it a major issue this year," Sanjay Singh, party Political Affairs Committee (PAC) member and in-charge of Punjab, said.
In 2016, the party's performance in the MCD bypolls came as a setback as it managed to bag only five seats out of 13, even as it aspires to replicate its success of Assembly polls in the full-fledged civic elections scheduled this year.
In the civic polls, AAP will contest against BJP, which has been controlling the MCDs for over nine years, Congress and the nascent Swaraj India, a party led by former AAP leader Yogendra Yadav.
However, as sword hangs over the heads of its legislators with two separate Office of Profit petitions seeking disqualification of 21 and 27 AAP MLAs, 2017 could be slightly rough for the party.
Disqualification in any of these petitions will mean bypolls. This is, however, unlikely to have any impact on the stability of Kejriwal government.