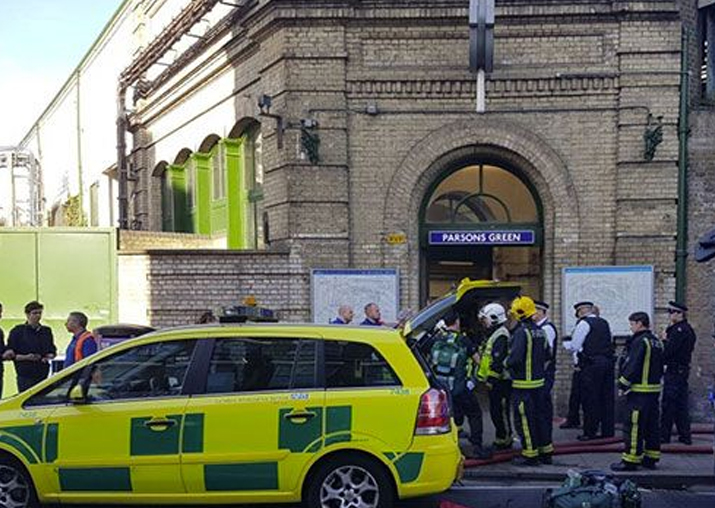 An explosion on an underground train at a busy station in southwest London today left several commuters injured in what the Scotland Yard described as a "terrorist incident".
The incident occurred during rush hour on a District Line Tube train as it pulled into Parsons Green station.
As soon as the news of London blast attack came, people started sharing messages on micro-blogging site Twitter saying that they stand united against terrorism.
Prime Minister Theresa May tweeted: "My thoughts are with those injured at Parsons Green and emergency services who are responding bravely to this terrorist incident."
President Donald Trump says the United States must be "proactive" and "nasty" against the Islamic State group. "We have made more progress in the last nine months against ISIS than the Obama Administration has made in 8 years." He adds: "Must be proactive & nasty!"
Meanwhile, Mayor of London Sadiq Khan has appealed for calm, saying the city "will never be intimidated or defeated by terrorism".
Here are some more tweets from people who are sending their thoughts and prayers to those in need.
@IstandWithQatar
Our thoughts and prayers are with #London and it's people,hope everyone is safe.
Please Stay safe,follow police instructions.
@chris20johnson
When will these attacks stop ur a bunch of cowards
@vikashroy
As long as you won't link terror with religion, you will face blast after blast.
#LondonExplosion officially deemed a terrorist attack by authorities. Here's the meme. #ReligionOfPeace #London #LondonTube #londonattack pic.twitter.com/rs0SZO0HTO

— #KeepAmericaGreat (@BuildKatesWall) September 15, 2017
@WaWajir
Halter, confusion, injuries people trampling each other as explosion gushed underground train West London.
@FraPalazzo
To my family and friends, I am #safe in #London.
@samantha1981
Don't panic. We stand together. We are united aren't we Khan?
@Harshadjo
Its high time we should unite and eliminate those involved in terror attacks or such terrible activities
@ella_smallwood
These terrorists need to stop ????