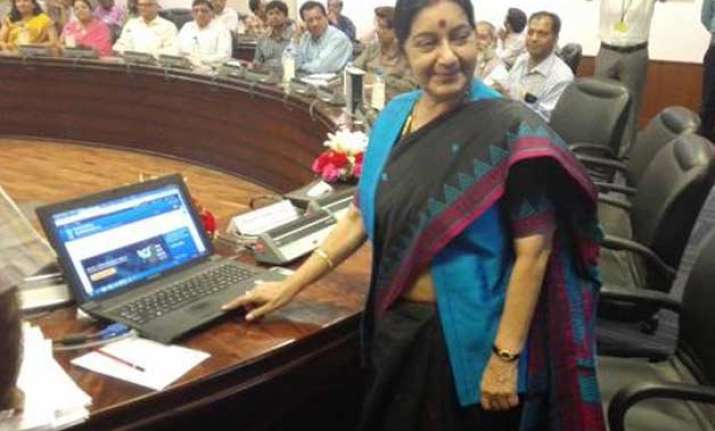 New Delhi: Union Minister Sushma Swaraj today announced the dates for the tenth edition of international Hindi conference, to be held on September 10-12 in Bhopal. 
Prime Minister Narendra Modi is expected to inaugurate the 'Vishwa Hindi Sammelan' which focusses on expanding the reach of the language. 
Speaking at the launch here, the Minister for External Affairs said the event with its theme 'Hindi Jagat: Vistar evam Sambhanai (World of Hindi: Expansion and Scope)' will explore the possibilities of making use of Hindi more frequent. 
"As an External Affairs Minister if any foreign dignitary interacts with me in English, then I respond in the same medium. But if any dignitary is talking to me in their mother toungue, then I respond in Hindi. 
"If the Chinese, Japanese, French, Germans can carry out businesses in their language, learn and get educated in fields like science and technology in their mother tongue, then why can't this happen with Hindi?" she asked. 
Madhya Pradesh will be partner state of the event. 
"We have chosen Bhopal because it is a cultural captial of the country. World's first Hindi university was also established there. And even I represent the state in the Lok Sabha," said Swaraj, who is a Lok Sabha MP from Vidisha. 
She said the three-day conference will have 28 seminars on various aspects including the failing language standards in Hindi journalism. 
This will be the tenth edition of the Vishwa Hindi Sammelaan. The last one was held in Johhanesburg, South Africa in September 2012. 
Taking a jibe at previous governments, she said although the event started in 1975 and was aimed to be organised every three years, subsequent governments did not ensure that the conference took place. 
Swaraj launched the website www.Vishwahindisammelan.Gov.In where participants can register themselves for the event with the fee of Rs 5,000 for Indians, Rs 1,000 for students, USD 100 for participants outside India and USD 25 for such students.