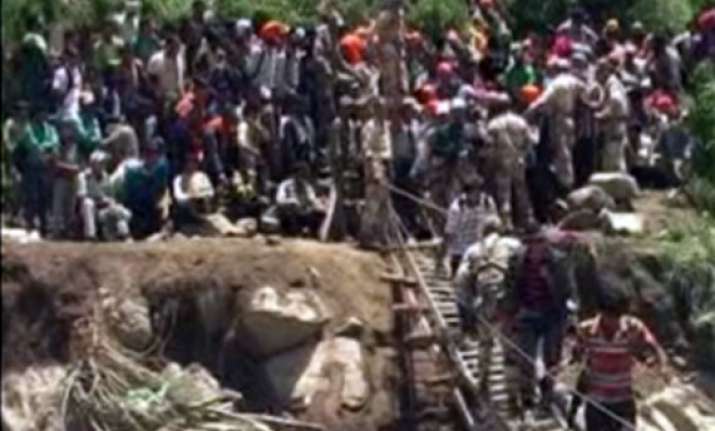 Dehradun/New Delhi,Jun 23: Racing against time in the face of predicted adverse weather, over 10,000 people were evacuated on Saturday from various upper reaches of flood-ravaged Uttarakhand, including the worst-affected Kedarnath, as the death toll may touch 1,000.
In all, 70,000 stranded people have been brought to safety in the mammoth ongoing multi-agency operations and more than 22,000 remain to be evacuated, according to information given by the Center and the state government.
While today  the weather may stabilize, those engaged in the operations are worried about the rain forecast for Monday and Tuesday that could hamper their work.
"The death toll is likely to be around 1,000," Chief Minister Vijay Bahuguna told reporters here as the Himalayan tragedy unfolded after the gushing waters left behind a trail of death and destruction.
A conclusive figure can be arrived at only after the slush and debris under which bodies could be buried are cleared, he said.
Officials said 123 bodies were recovered from the Kedarnath temple complex raising the official death toll to 680. Army officials said 83 bodies were identified and handed over to authorities.
Mounting the biggest-ever operation to evacuate people from a disaster zone in peace time, 61 helicopters, including 43 of IAF and 11 of the army, were deployed. World's biggest Russian-made MI-26 helicopters that can carry about 150 passengers were pressed into service today.
Information and Broadcating Minister Manish Tewari told reporters in Delhi that while the Army and ITBP rescued 4,000 people each, air force chipped in to move the rest.
Congress is sending party general secretary Ambika Soni and treasurer Moti Lal Vora on a recce operation today, as angry complaints continued to pour in from relatives of pilgrims.
Senior IAS officers have been specifically designated as Nodal Officers for coordinating various works in Badrinath, Guptakashi, Gangotri, Dharchula and Haridwar.
Rescue operation suspended due to rain in Gochar, Uttarakhand