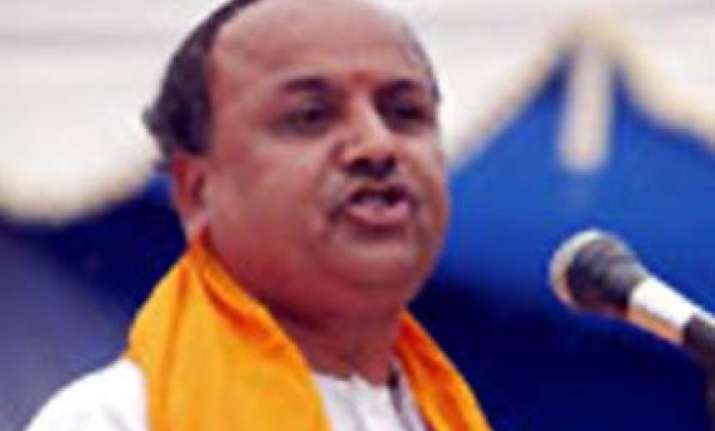 The VHP on Monday defended self- styled godman Nityanand Swami, embroiled in a controversy over a video purportedly showing him in an objectionable position with an actress, saying it was an "organised conspiracy" against the Hindus.  
"It is an organised conspiracy against the Hindus. Unless the CD is verified by forensic experts, it should not be aired by electronic media," VHP leader Praveen Togadia said.
The Supreme Court ruling in other similar cases should he followed by the media in this case too, he told reporters.  Asked about plans to serve beef at Commonwealth Games village, he hinted that the VHP might take recourse to legal steps to stop this.
"Commonwealth Games are a matter of great pride for the country. We will see that our prestige is maintained. But we will not allow anyone to hurt our religious sentiment. So we will find a legal, judicial and democratic way to ensure that beef is not served," he said.  
Attacking the Orissa Government for stopping him from visiting communally sensitive Kandhamal district last week, Togadia said every Hindu should be allowed to visit the district.  "Orissa Government has allowed members of European Union who are not citizens of India to visit Kandhamal and Togadia who was a citizens was not allowed.
For Chief Minister Naveen Patnaik, European Union people are more trustworthy than any Indian citizen," he said.  Togadia said the purpose of his visit to the district was to "take a 'sankalp' (pledge) that the jobs of the SC and ST and OBC are protected as the Central Government was planning to snatch away jobs and education from every Hindu, SC&ST and OBC by implementing Ranganath Commission recommendation."  
He said Swami Laxmananda Saraswati, who was shot dead in Kandhamal in 2008 triggering communal violence, had devoted his life to providing education and jobs to the weaker section. PTI