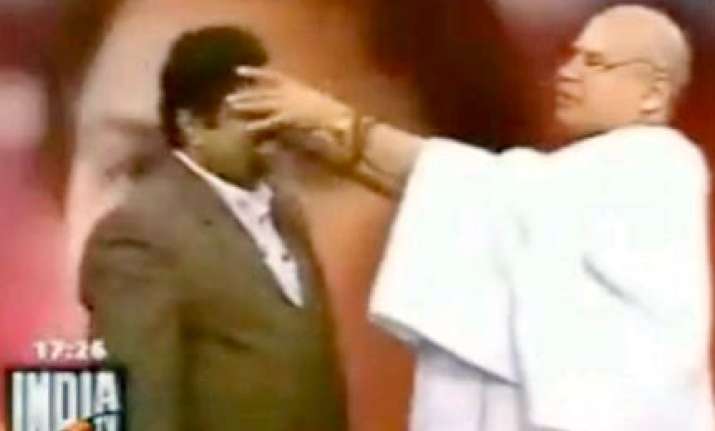 UK's largest circulating tabloid Sun has published a report on India TV's expose of a self-styled tantric  guru  who accepted a challenge to prove his mystical powers by killing  a man live on television. This is what the Sun report says:

Holy man Pandit Surender Sharma had claimed he could murder a man using simply his mind.

 So after hearing his boasts of the lethal talent sceptic Sanal Edamaruku challenged him to kill him there and then.

Mr Edamaruku — head of the Indian Rationalist Association — said calmly: "Go on then - kill me."

The mystic was at first unwilling but finally relented and agreed to prove his powers.
Destroyed
Millions watched as the television schedule was hurriedly scrapped to keep broadcasting the stunt.
First Mr Sharma chanted mantras and then sprinkled water over his victim.
Next he ruffled his hair and brandished a knife.
But after several hours Mr Edamaruku still refused to die and was openly taunting his would-be killer.
Mr Edamaruku, 55, said after the stunt: "He was over, finished, completely destroyed."
When the guru finally gave up he accused him of praying to the gods to protect him.
The mystic then claimed he could only succeed after sleeping with a woman, rubbing himself in ash, drinking alcohol and trying again at night and outside.
Mr Edamaruku told Mr Sharma to perform his ritual and try again.
But when the sceptic still would not die the show's anchor pulled the plug on the stunt.
Mr Edamaruku said he has spent his life trying to expose charlatans.
He added: "The immediate goal I have is to stop these fraudulent gurus.
"I want people to make their own decisions. They should not be guided by ignorance, but by knowledge.
"I'd like to see a post-religious society - that would be an ideal dream, but I don't know how long it would take."