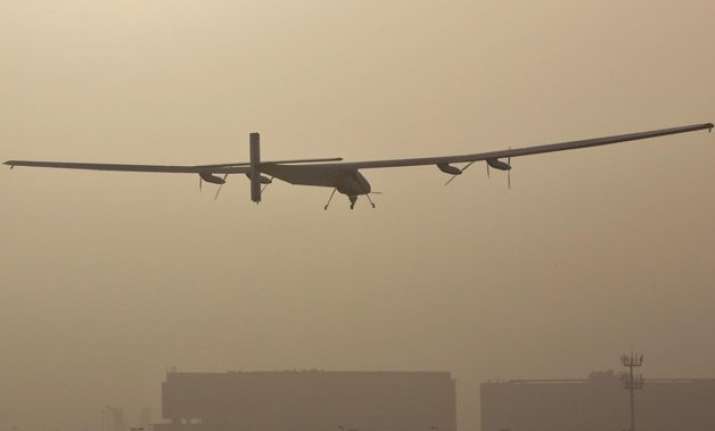 Ahmedabad: World's only solar-powered aircraft Solar Impulse-2 (SI-2) took off from Ahmedabad airport today morning at 7:15 am and heading towards Varanasi.
"Solar Impulse-2 flying from Ahmedabad to Varanasi, entirely #PoweredByTheSun!" the SI-2 team tweeted today morning.
Varanasi is the third of the twelve destinations the flight is likely to cover during its world tour. The zero-fuel aircraft will have an 8-hour pit-stop in the city.
Earlier, the SI-2 team had postponed departure from its scheduled date on March 15 due to bad weather conditions. Later, it was scheduled for departure on March 17, which was extended by one more day until March 18.
SI-2 landed at the Sardar Vallabhai Patel International Airport, Ahmedabad on March 10. Andre Borschberg, the project's co-founder and pilot, and its co-pilot as well as president Bertrand Piccard spent more than a week in the city.
The aircraft began its journey on March 9 from Abu Dhabi. Swiss pilot Piccard had flown the plane from Muscat to Ahmedabad, while his co-pilot Borschbergh is flying the aircraft to Varanasi.
It has been built not just to fly around the world without an iota of fuel, but also carry a message demonstrating effectiveness of clean technologies and importance of sustainability.
From Varanasi, the SI-2 is scheduled to fly to Mandalay in Myanmar, Chongqing and Nanjing in China and thereafter to the USA.
Its 17,248 solar cells and four lithium batteries, weighing 633 kgs, supply the electric motors with enough renewable energy for a 24x7 flight, up to an altitude of 8,500 metres -- less than the height of Mount Everest which stands at 8,848 metres.
The ambitious project is supported by Prince Albert of Monaco, the United Arab Emirate's Minister of State and Chairman of Masdar Sultan bin Ahmed Sultan Al Jaber, British businessman Richard Branson and former US vice president Al Gore.
It is also supported by main partners Solvay, Omega, Schindler, ABB, and Official Partners Google, Altran, Bayer Material Science, Swiss Re Corporate Solutions, Swisscom and Moet Hennessy, the official said.