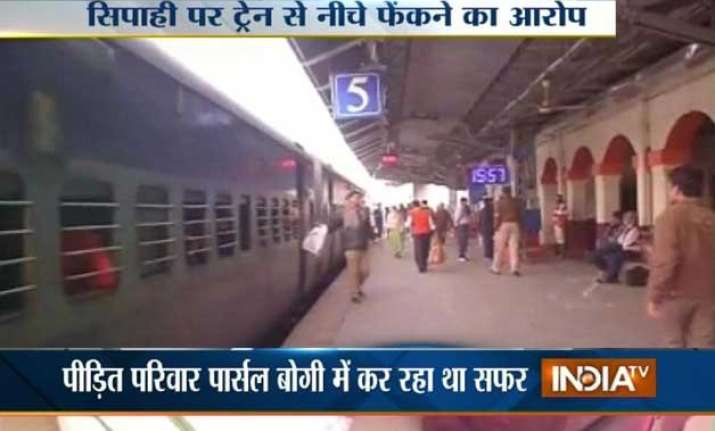 Varanasi: A 25-year-old woman, who was thrown out of a moving train in Varanasi by a RPF jawan on Tuesday night, succumbed to her injuries at a city hospital on Wednesday.
According to police, the victim, identified as Rita, had boarded Howrah-Amritsar Express at Asansol along with her family, and was heading towards Kanpur.
The family comprising Rita, her 18-month-old daughter Kajal, uncle Manik Pal and brother Jaideep Pal, had entered the parcel bogie as the train was overcrowded. When the train arrived at Varanasi station, one RPF constable entered the coach and asked them for money.
He then threatened Manik and Jaideep to pay him or deboard the train. Later he pushed them out of the coach to which Rita strongly protested. By that time, the train has started moving as a result Rita fell from the train and suffered serious injuries.
"A man entered the coach and snatched Rs 3,500 from me. He beat up my son (Jaideep) and pushed out my daughter (Rita) from running train. He was in a police uniform and carrying a walkie-talkie," Manik Pal said.
The lady was soon admitted to Deen Dayal Upadhyay Hospital for medical aide, police said.
Doctor, treating Rita, said that the victim had suffered severe trauma to the chest after being thrown out of a moving train.
Dr Rajesh Kumar Singh said, "Two patients namely Rita and Jaideep were admitted here. Rita succumbed to her chest injuries after being thrown out of a moving train."
The GRP on Wednesday registered an FIR against RPF jawan, Sharad Chandra Dubey. Dubey was taken into custody after an identification parade.
"We have taken the accused in custody. Investigation is on. We will look into the case very strictly and suitable action will be taken," OP Singh, CO, GRF, said.
Rita, a resident of Birbhum in West Bengal, was going to Kanpur to meet her husband Parvesh Pal.