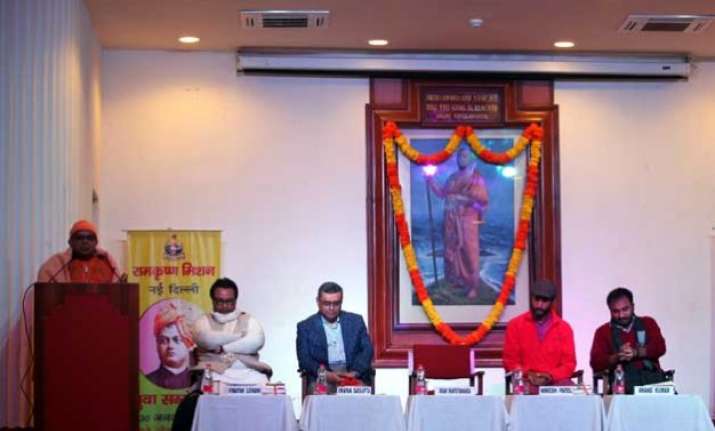 New Delhi: In order to take its value education programme titled "Awakened Citizen " to new areas, Ramkrishna Mission today announced a two-year Vivekananda Fellowship with a compensation of at least Rs 20,000 per month for graduates.
Swami Shantatmananda, Secretary of Ramakrishna Mission, made this announcement while addressing a congregation of around 800 students who had assembled to participate in 'youth convention' aimed to mark 154th birth anniversary of Swami Vivekananda.
Swami Shantatmananda further said that 'Vivekananda Fellows' will serve as resource persons for the Awakened Citizen Programme which is presently being run in more than 800 schools across the country.
The youth convention was attended by noted journalist Swapan Dasgupta, Anand Kumar of IIT Super30 fame, IIT and IIM alumnus Shri Vinayak Lohani who set up Parivar, an orphanage for 1,200 children and hip-hop artist Shri Nimo (Nimesh Patel) who set up a dance troupe of underprivileged children and took them on a world tour.
Read Also: What makes Swami Vivekananda even more relevant in modern times?
Speaking on this occasion, Swapan Dasgupta explained why Swami Vivekananda and youth go hand in hand even today.
"Questioning is the basic trait of youths and Swami Vivekananda used to question a lot. He used to ask numerous questions to his guru Ramakrishna Paramhamsa. That's why he is considered a youth icon even after more than a century of his passing away," Swapan Dasgupta said.
Swapan further pointed out that Sawmi Vivekananda inspired a majority of freedom fighters because he reminded Indians of their rich history, culture and heritage.
"Swami Vivekananda never made a political speech but he inculcated a sense of pride and self-respect among Indians. That's why he was a source of inspiration for many freedom fighters including Subhash Chandra Bose. At the time when he visited America, most of the people in that part considered India a place of superstition. Swami Vivekananda informed them of India's rich legacy," Swapan added.
Swami Shantatmananda reminded the audience that even Mahatma Gandhi held Swami Vivekananda in very high esteem and considered him a source of patriotism.
"After visiting Belur Math, Mahatma Gandhi said that his love for nation had gone up by at least 1000 times," Swami Shantatmananda said.
Speaking on this occasion, Anand Kumar of IIT Super30 fame said that Swami Vivekananda was the source of inspiration behind his efforts to provide quality education to underprivileged children.