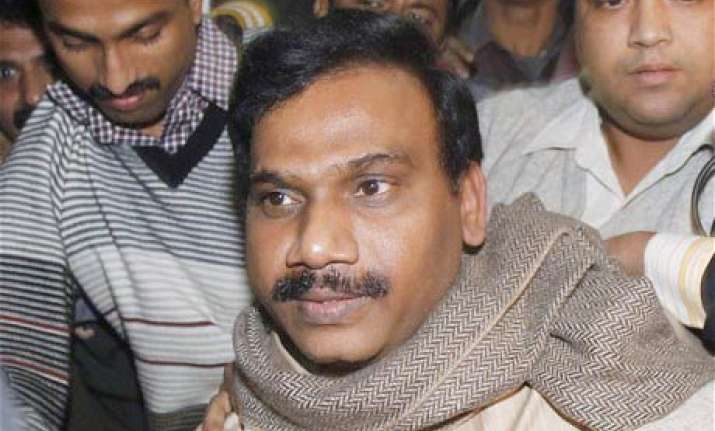 New delhi, Feb 3: Former  Communication Minister A Raja, who had  strongly denied any wrongdoing in the 2G matter till now, appeared a resigned man on Wednesday when CBI officials informed him that he was being arrested.
The CBI's anti-corruption team, which had been questioning Raja for the last one month, asked him to join them at the agency's headquarters at 10.30am on Wednesday.
Shortly after 3pm, he was told that he was being taken into custody, to which he did not react, says a media report.
CBI sources said that till date, Raja had been answering only those queries which he wanted to but now, certain facts had to be verified, including the recovery of a diary (from his house), hard disks, money transactions and his contacts, which could only happen while he was in custody.
Officials claimed that Raja was evasive during questioning on December 24, 25, January 31 and on Wednesday."We have direct evidence against him in relation to violation of first-come first-served policy and eligibility of private firms which were awarded 2G licences, to which he has not given satisfactory reply during questioning.
"Also, we have not been able to find several crucial emails and letters in the computers. We have extracted mirror images from the hard disks which are being sent for forensic examination," a senior CBI officer said.
Meanwhile, Raja's friends were waiting downstairs at the reception since morning and they were not aware about the activities upstairs.CBI arranged for Raja's stay in CBI headquarters for Wednesday night and he was taken to Patiala House court on Thursday morning. He has been allowed to have home cooked food and make some calls.
When asked if Raja was accompanied by his lawyer, a senior CBI officer said, "He made calls in the evening to his house and some of his friends."As news of his arrest came out, a large number of Raja's friends and family members started arriving at CBI headquarters.