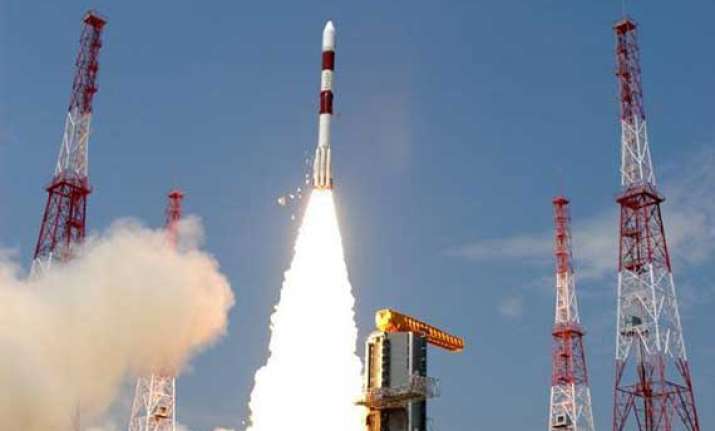 Sriharikota (Andhra Pradesh): An Indian rocket Monday successfully sent into orbit five satellites, an event that Prime Minister Narendra Modi described as "global endorsement of India's space capability".
"I believe technology is fundamentally connected to common man. It can transform his life," said Modi, who witnessed the successful launch.
"I feel specially privileged to witness this event in person," said Modi who applauded as the Polar Satellite Launch Vehicle-C23 (PSLV-C23) - standing around 44.4 metres tall and weighing around 230 tonnes - tore into the bright morning skies with orange flames fiercely burning at its tail.
The rocket's main luggage is the 714-kg French earth observation satellite SPOT-7.
Piggybacking on it are the four small satellites viz: 14-kg AISAT of Germany; NLS7.1 (CAN-X4) and NLS7.2 (CAN-X5) from Canada each weighing 15 kg; and the 7-kg VELOX-1 of Singapore.
Modi described it as "global endorsement of India's space capability" inspired by Atal Bihari Vajpayee's vision. "We have sent a mission to the Moon and another is on its way to Mars."
He said that the benefits of space technology should be shared with those who do not have the same and cited the provision of telemedicine technology to Afghanistan and Africa.
The rocket took off exactly at 9.52 a.m.
Modi, Andhra Pradesh Governor E.S.L. Narasimhan, Chief Minister N. Chandrababu Naidu, union Minister Venkaiah Naidu, space scientists and other invitees at Indian Space Research Organisation's (ISRO) rocket mission control room intently watched the rocket's upward flight with one-way ticket.