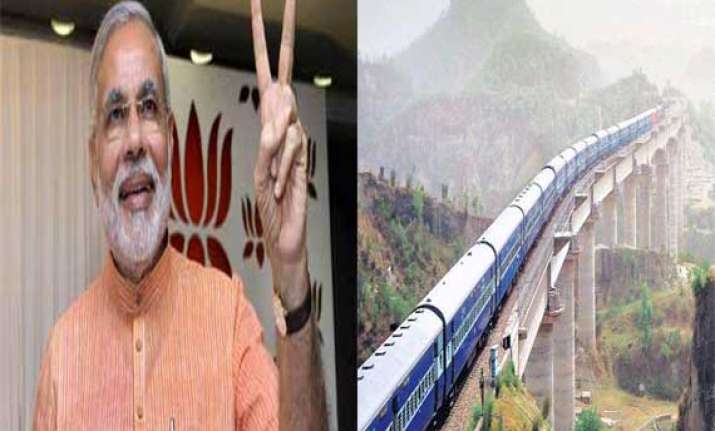 New Delhi: The much-awaited train service to Katra, the base camp for pilgrimage to the Mata Vaishno Devi shrine, is likely to be flagged off by Prime Minister Narendra Modi on July 4.
Railway Minister Sadananda Gowda will accompany Modi to the inauguration of the 25-km Udhampur-Katra line, and accordingly all arrangements are being made, said a senior Railway Ministry official.
After missing several deadlines, the Railways has finally got the mandatory safety clearance from the Commissioner of Railway Safety (CRS) this month to commission the line passing through a difficult hilly terrain.
The CRS had conducted the inspection of the Udhampur-Katra line, constructed at a cost of Rs 1,050 crore, for three days from January 27.
There were certain issues raised by the CRS and the mandatory clearance was obtained this month after those were addressed, said the Railway Ministry official.  There has been a trial run of the Udhampur-Katra service after it got the CRS clearance.
The 53-km Jammu-Udhampur rail line is already operational and once the Udhampur-Katra line, which is a part of the Kashmir rail link project, is made operational, the trains will be able to come up to Katra directly. That would enable pilgrims headed to the Vaishno Devi shrine to travel directly to the base camp at Katra.
Railways is considering extending the Jammu Mail and Sampark Kranti Express up to Katra, besides introducing new trains, including Katra-Kalka Express, Delhi Sarai Rohilla-Udhampur Express, and Ahmedabad-Udhampur Express.  According to the official, there are demands from several zones for train services to Katra.
A set of local trains from Jammu to Katra and Pathankot to Katra are also likely to be introduced to cater to the rush of Mata Vaishno Devi pilgrims.
An estimated 10 million devotees visit the Mata Vaishno Devi shrine every year. The line to Katra has seven tunnels and over 30 small and large bridges. Katra station has been completed with modern facilities, including tourist guide counter, cloak room, waiting hall, VIP lounge, escalators and lifts and parking spaces.