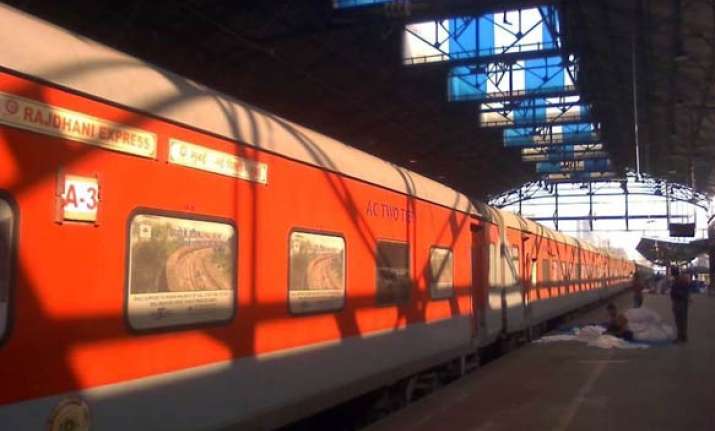 Mumbai, July 16: The Rajdhani Express  may soon cover  the 1,384-km distance between Mumbai and Delhi in half the present time  at 200  kmph, if a Japanese feasibility report is implemented, reports The Economic Times.

Imagine the journey time  of 16 hours taken by a speed of 90 kmph reduced by half, and the train scorching the tracks at 200 kmph.

A delegation of top Japanese economists conducted a survey of the Mumbai-Delhi Rajdhani corridor recently, to check the feasibility of a project aimed at enhancing the speed of trains to about 200 kmph.

Railway sources said the project, called Golden Rail Corridor, intends to bring travel time between Mumbai and Delhi under nine hours.

"We believe semi-high speed rail corridors are a better option compared to the more ambitious highspeed and bullet train proposals which are outrageously costly, and will take far longer to build," the source said.

Railway Ministry Chief Spokesperson Anil Saxena said the Japanese delegation had several rounds of talks with Railway Board officials in Delhi on Friday afternoon.

Another team of railway experts from Japan is expected next month for another survey, an official said.

The Japanese team visited Baroda, Surat and Mumbai.

A senior Railway official said, "They reached Baroda on Tuesday evening, where they inspected the locomotive shed and repairing facilities. The next day, railway establishments at Surat were studied, followed by track inspections from Surat to Mumbai."

The delegation collected data such as passenger statistics, population, technical capabilities of trains, tracks and the number of workshops.

"The team will submit a report to the Railway Ministry and to the Japanese government on why Japan should be granting loans to Indian Railways for the project," the official said.

In her tenure as Railway Minister, Mamata Bannerjee had announced the pre-feasibility study for the Mumbai-Delhi corridor.

She said that similar studies would be conducted for semi-high speed lines between Mumbai and Kolkata, and for the Chennai-Bangalore , Delhi-Jaipur , and Mumbai-Ahmedabad corridors.