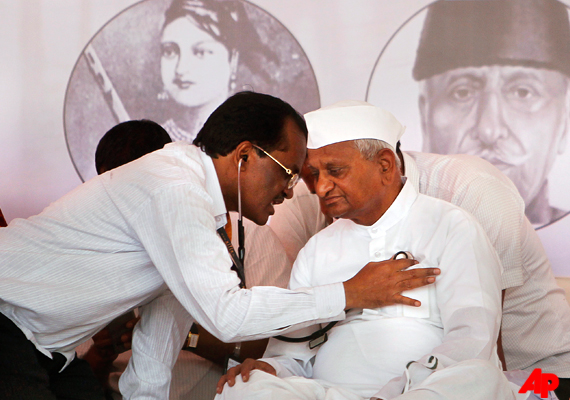 Mumbai, Dec 28: A team of senior Mumbai doctors who examined Gandhian Anna Hazare at noon today at the MMRDA grounds advised him to call off his 3-day fast.

Dr Ashwini Mehta read out the biochemistry report relating to Anna Hazare to the supporters assembled there.
 
"He is weak. His blood pressure while lying is 130/90, and while standing is 105/70. His skin is showing signs of dehydration, and his tongue is dry.

"His pulse rate is 71, but the heart sounds better. Anna has a fever of 100 deg F, but his chest and throat are clear and abdomen normal.

"His blood examination shous  rise in urea nitrogen and a mild rise in creatinine level. His blood shows low levels of sodium and chloride, and there is evidence of dehydration.

"We strongly advise Anna Hazare to discontinue his fast forthwith, otherwise it may lead to kidney failure", Dr Mehta said.

"Continuance of fasting is strongly discouraged", he added.
Concern over Anna Hazare's health weighing on their minds, villagers of Ralegan Siddhi are reaching here today, the second day of his fast for a strong Lokpal Bill.

"About seven to eight vehicles, carrying people of Ralegan, including the village sarpanch, are reaching Mumbai," Hazare's associate Datta Awari told PTI over phone from the Gandhian's native village.

The village observed a bandh yesterday as students went on a token day-long fast and a candle-light march was taken out.

They remained glued to TV to watch the proceedings at MMRDA ground on day one of the latest anti-corruption agitation launched by Hazare, he said. 

Hazare has decided to continue with his fast rejecting appeals by his close aides Arvind Kejriwal and Kiran Bedi to call it off.
With Anna Hazare ailing and Mumbaikars largely staying away, the anti-graft campaigner's 3-day fast appears to have fizzled out on the second day today.

As hardly a few hundred supporters, mostly from the north, marked there presence at the sprawling MMRDA ground, the police too whittled down the security apparatus significantly.

When 74-year-old Hazare launched his fast yesterday, fourth this year, for a strong Lokpal, the estimate of people at the venue varied between 4,000 to 10,000. The attendance dropped sharply today with hardly a 200-300 people sitting in front of the stage.

The activist's fast at Ramlila Maidan in August had seen impressive turnout with upto 30,000-40,000 people pouring in every day.

"The crowd has been relatively low here compared to Delhi, much less than I had expected. We haven't seen many Mumbaikars here," Pavitra Singh, from Punjab, told PTI. 

He attributed it to various reasons like news reports about threat to Hazare and his supporters. "Also, since Mumbai is a commercial hub, the working class people come and go as per their convienence," Singh, who is fasting, said. 

K V Singh from Haryana, who was with Hazare during his army days, lamented Mumbaikar's obsession with work, saying "It seems people of Mumbai are busy with work. They don't have time for social causes...burning issue like corruption."

Hazare, who is suffering from viral infection, has not come on stage today so far and, since beginning his fast, has addressed the gathering just once.

Doctors attending on him said he was running fever and his blood pressure dropped while standing, making him difficult to walk. They have advised him to end the fast, saying otherwise his kidney can get affected. Hazare was also showing signs of dehydration.

Kartar Singh, a farmer from Uttar Pradesh, said, "People are worried about corruption here also but the enthusiam and seriousness for rooting out corruption is missing among Mumbaikars."

"When we were at Ramlila Maidan in Delhi people from neighbouring states like Uttar Pradesh, Haryana and Punjab poured in...there was a massive support for the movement." Even a top Hazare aide, who did not wish to be named, expressed disappointment over the poor turn out. 

"The crowd is much less than what we had expected from Mumbai. Had Anna been fasting in Delhi the response would have been phenomenal. Delhi has adopted Anna," he said and attributed the thin attendance to winter vacation and the fast being held on working days.

"I have been fasting for the last 17 years for several causes, mainly corruption. We are disappointed as Mumbaikars have not come in large numbers but we must not forget that protests are similatenously going in several parts of the city," Rangnath Kavade, from Kalyan said. 

According to an India Against Corruption official, who spoke on condition of anonymity, the organisers had expected a groundswell of support for the fast as it was being organised in the Gandhian's home state, the laboratory of his non-voilent movements against various social ills, including corruption.

A top ranking police officer told PTI that nearly 40 per cent of security personnel deployed at the fast venue have been withdrawn.

" The deployment is made keeping in mind the crowds which are below our expectations. We will take a call on increasing police presence if required," he said on condition of anonymity.

There was heavy police bandobust for the event yesterday with 2000 police constables and 200 sub-inspectors, six platoons of state reserve police force, three teams of Quick Response Team and two Bomb Detection and Disposal Squads deployed.