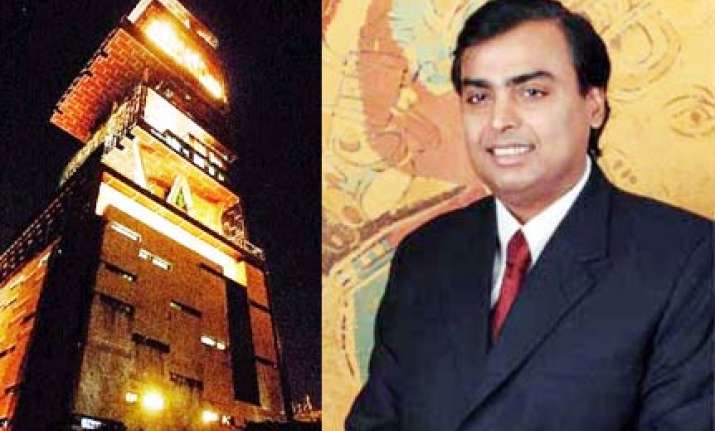 New York: Billionaire Mukesh Ambani's USD one billion new abode 'Antila' may outprice any other home in the world, but is not in the Forbes' list of most expensive homes as the house is not for sale, the magazine has said.
 "Our global list limits itself to homes currently on the market, and Ambani's behemoth isn't for sale," the American business magazine has said in a commentary on India's richest man Mukesh Ambani's plans to move into his new 27-storey skyscraper in Mumbai later this month.


 
Meanwhile, UK's Daily Mail has reported that Prime Minister Manmohan Singh and many others have been invited for Antila's house warming party later this month.
RIL spokesperson could not be contacted for comments. "Among the guests is Prime Minister Manmohan Singh, who has previously called on business tycoons to be role models of moderation," Daily Mail said.  




Noting that the huge gap between the price-tag of Antilla, the new home of Reliance Industries Chairman, and the other top-priced homes across the world, Forbes said: "The last time Forbes ranked the world's most expensive homes was November 2009, when The Manor, Candy Spelling's Beverly Hills mansion, won out - it was priced at USD 150 million.
"That home is still for sale, and its price hasn't budged, qualifying it for the number one spot on our recent list of America's most expensive homes," it added.
Noting that the global list was a year old and new mansions may have come on the market since then, Forbes said that still "at $1 billion, the Antila outprices any home on the market, anywhere in the world, by an order of magnitude."




The magazine noted that the home "likely sets a record as the world's most expensive residential home."
Forbes said that Ambani began work on this home years ago when "he was worth USD 43 billion (his net worth is down by nearly a third)."
"Now fully constructed, it's the most ever spent on a home that we know of. In June the world's richest man, telecommunications billionaire Carlos Slim Helu paid USD 44 million for an Upper East Side Beaux Arts town house. One could interpret the two tycoons' recent moves as a billionaire version of keeping-up-with-the-Joneses. 




"If that's the case, Ambani won by a long shot," it added.
Recently, Forbes magazine predicted that Ambani, currently the fourth richest globally, would overtake Slim as the world's richest person in 2014.
"Given the enormous gap between the Antila's sale price and the known closing cost of any home sold in recent years, there's an awfully good chance that this is the most paid for a home, ever," Forbes said.
It added that the highest price paid for a home in 2010 was somewhere between USD 47 million and USD 72 million for Le Belvedere in Bel Air.
According to Forbes, Mukesh, along with his wife Nita Ambani, three children and a modest 600-person staff would move to new house.
The house would have facilities like a health club, gym, dance studio, a ballroom, guestrooms, numerous lounges, a 50-seat screening room, an elevated garden, three helipads, and underground parking for 160 vehicles, the magazine noted. PTI