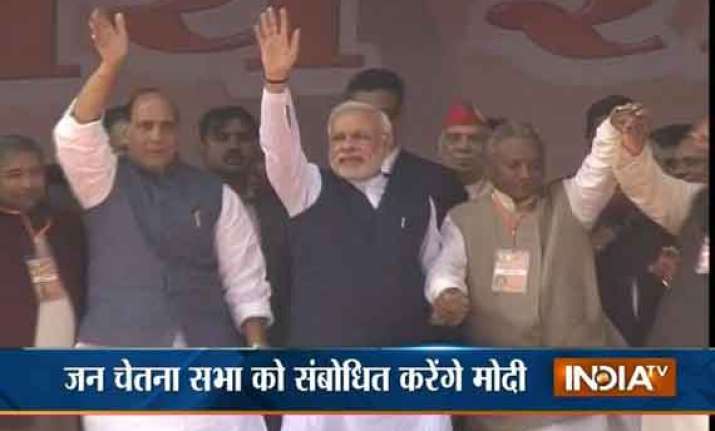 Kolkata: From invoking icons like Rabindranath Tagore and Swami Vivekananda to mentioning its delightful sweets like rosogolla and sandesh, BJP's prime ministerial candidate Narendra Modi Wednesday lost no opportunity to play to Bengali sentiments at a party rally here.
Modi began his address in Bengali at the Brigade Parade grounds.
He quoted extensively from Tagore's poem "Where the mind is without fear", referred to Vivekananada, Netaji Subhas Chandra Bose and Rishi Aurobindo.
He also pointed to the connections of Bose, Aurobindo, Tagore and Vivekananda with his state Gujarat.
Durga Puja - Bengal's biggest religious festival - and its signature sweets rosogolla and sandesh all figured in the Gujarat chief minister's address.
He also promised to recreate a "Sonar Bangla" (golden age of Bengal) if the people of the state gave all 42 Lok Sabha seats to his party.
But the most sensational part of the speech was the way Modi dragged the name of President Pranab Mukherjee to buttress his claim of the Congress and the Gandhi family's apathy to West Bengal.
Modi claimed that the Congress twice denied the job of prime minister to Mukherjee - who hails from the state - first in 1984 after Indira Gandhi's assassination and the second in 2004 when party chief Sonia Gandhi backed Manmohan Singh.