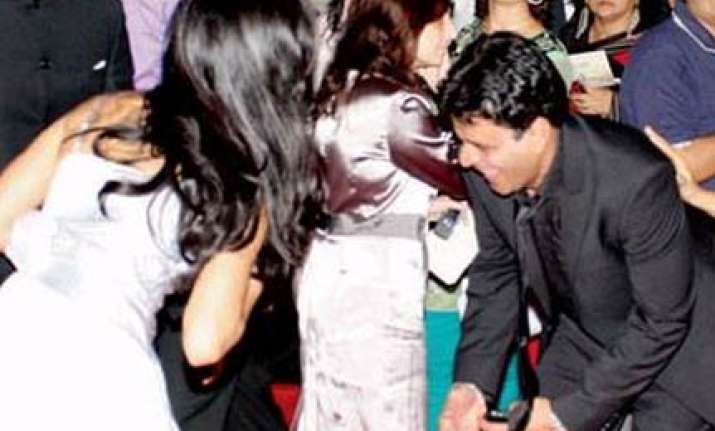 Bollywood star Katrina Kaif, who played the character of Indu Pratap Singh in Prakash Jha's 'Raajneeti', was so impressed with  Manoj Bajpai's powerful acting in the film that she touched his feet at the event, says a media report. Manoj Bajpai seemed embarrassed at first and then beamed with pride as Katrina Kaif  congratulated him on his towering performance in the character of Veerendra Pratap.
Manoj was obviously overwhelmed with the gesture of Katrina, who is one of the top heroines of Bollywood. However, the adulation for Bajpai did not stop at that.  Ranbir Kapoor and Arjun Rampal lifted him on their shoulders to show their appreciation. Manoj Bajpai's character in the film is slightly negative and the man wants to capture power at all cost. This character has been beautifully portrayed by the veteran actor. 
However such adulation is not new for Manoj Bajpai and even Tabu, who was the reigning goddess at that time, had touched his feet at the premiere of 'Satya'. Unfortunately, such appreciation and praise have not turned out positive in getting stellar roles for Bajpai in Bollywood, says the report.In fact, 'Raajneeti' is the only film after Satya'(which was almost twelve years earlier) that got Manoj Bajpai so much praise from one and all.
Manoj profusely thanked Prakash Jha for giving him the role of a lifetime. Manoj Bajpai will also be seen in Prakash Jha's upcoming flick 'Arakshan' along with Ajay Devgn and others.