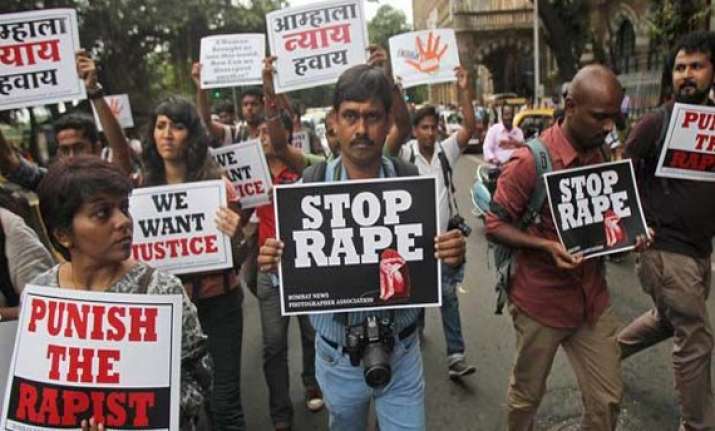 Mumbai: Three of the five accused in last week's gangrape of a photojournalist are history-sheeters and none is a juvenile, Mumbai police chief Satyapal Singh said yesterday, even as the fifth accused arrested in the case was remanded in police custody till September five.
A mobile phone, suspected to have been used by the accused to click photos of the victim, has been seized.
"Only one photograph was said to have been clicked but even that is not available now. We will try to retrieve it," he said.
The Police Commissioner said experts from the Central Forensic Science Laboratory and Gujarat Forensic Science Laboratory would assist the city police in gathering "clinching evidence" against the accused.
While the team from CFSL has already arrived, the one from Gujarat will reach soon.
Singh said the process of setting up a fast track court to try the case and appointing a prosecutor is underway and charge sheet would be filed at the earliest.
Chief Minister Prithviraj Chavan had yesterday said eminent criminal lawyer Ujjwal Nikam, who was the public prosecutor in the 1993 Bombay serial blasts case and 26/11 attacks case, would lead the prosecution in the gangrape case of the 23-year-old photojournalist.
The officer said three of the accused—Chand Bahu Sattar Sheikh, Vijay Jadhav and Mohammed Qasim—had criminal records. While the first two had one case of theft each registered against them in 2011, Qasim had three cases of theft and one of robbery.
Asked about media reports that the gang could be involved in similar offences at the deserted Shakti Mills compound in the past, he said, "We are looking into his aspect, but as of now we have received no such complaint.
The accused have also not made any such confession during the interrogation." Media reports had suggested that the accused could be involved in some incidents of rape at the desolate and defunct Shakti Mills compound in the past which were not reported as they took pictures of the victims and threatened them with blackmail if they informed the police.