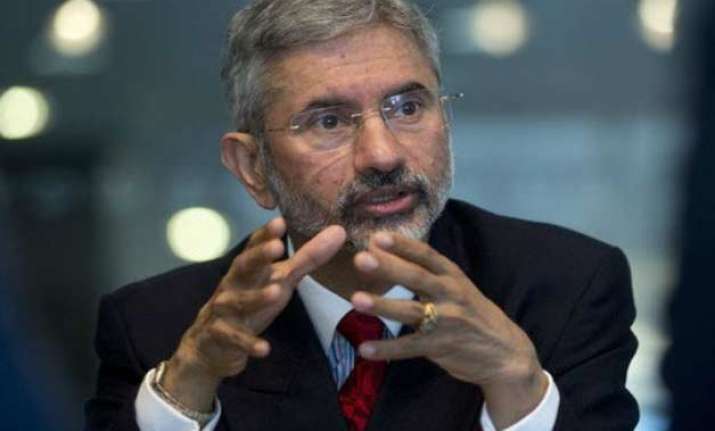 New Delhi: India has raised with China its concerns over huge Chinese investments in Pakistan-occupied Kashmir after President Xi Jinping's trip to Pakistan last month, it was disclosed today on the eve of Prime Minister Narendra Modi's visit to China.
"The matter was raised with the Chinese Ambassador here. It was also taken up by our Indian envoy in Beijing," Foreign Secretary S Jaishankar said when asked about China cooperating with Pakistan in developing infrastructure projects in PoK. During his visit to Pakistan, Xi had pledged assistance of USD 46-billion to build a strategic economic corridor through the PoK.
Briefing the reporters on Modi's six-day visit to China, Mongolia and South Korea, Jaishankar said a slew of agreements will be signed with all three countries to bolster cooperation in key areas.
Asked if any breakthrough was expected on the contentious boundary issue with China during Modi's meetings with Xi and Premier Li Keqiang, the Foreign Secretary did not give a direct answer, saying that 18 rounds have been held between the Special Representatives and the two sides were yet to "reach a stage where there is finality".  
However, he noted that progress on all bilateral issues and challenges will be discussed during Modi's talks with the Chinese leadership.
Modi will first fly to Xian, the home province of Xi for a summit meeting with the Chinese leader during which they are expected to discuss ways to take forward the strategic partnership between the two countries.  
From Xian, he will travel to Beijing for extensive talks with Prime Minister Li Keqiang when the two sides will sign a number of agreements to bolster cooperation in trade, investment, infrastructure including railways, tourism and greater people-to-people contracts.
"A full range of political issues" will be covered during the talks, Jaishankar said.
China is not keen on the clarification of the Line of Actual Control (LAC) proposed by Modi last year during Xi's visit to India.
The clarification of LAC ahead of the resolution of the boundary was expected to restrict aggressive patrolling from both sides.
Jaishankar said India and China were also discussing cooperation in developing high speed trains and station development.
To a question, he said it is "conceivable" that the issue of India seeking China's support for its entry into four export control regimes comes up during Modi's talks with the Chinese leadership.
Besides talks with Premier Li, Modi is set to meet top Chinese CEOs including Alibaba founder Jack Ma and address India-China Business Forum in Shanghai on May 16, the last day of his three-day visit to China.
China has committed to invest USD 20 billion in two industrial parks in Gujarat and Maharashtra in the next five years and the money has not started flowing into India yet.  Chinese officials complain of issues relating to visa access and red tape resulting in the delay of flow of investments.
Besides new investments, the two countries are set to sign a number of agreements to deepen cooperation in skill development.
It will be the first time since Xi took over power two years ago that he will be receiving a foreign leader outside Beijing and will spend considerable time informally interacting with Modi.
It is seen as a reciprocal gesture by the Chinese leader to the reception Modi accorded to him during his visit to Ahmedabad last year.
The only other leader Xi has spent time walking around was with Barack Obama last year during APEC summit when he took the US President around Zhongnanhai, the imperial garden in Beijing where the top Chinese leadership resides.
Besides having restricted talks with Modi, in his native Xian city, Xi would take the Indian leader on a tour of the iconic Wild Goose Pagoda built in sixth century in recognition of monk Xuan Zang's contribution in popularising Buddhism.  
The visit to the spiritual structure assumes significance as Xuan undertook a journey to India in 645 AD through the ancient Silk Road and returned home after a 17-year-long sojourn with precious Buddhist scriptures.  Modi would also be given a traditional Chinese imperial Tang dynasty welcome before the two leaders settle for a banquet.
In all, the two leaders are expected to spend about four hours or even more during which they were expected to have threadbare discussions on the border issue, China's push for maritime silk road (MSR) project over which India has reservations and India's big push for Chinese investments which will not happen without the nod from the government.  
In Mongolia, Modi is being bestowed with the rare honour of addressing Mongolian Parliament on Sunday, a holiday.  Modi, who will be the first-ever Indian Prime Minister to visit Mongolia, will hold wide-ranging talks with President Tsakhiagiin Elbegdorj to strengthen bilateral cooperation in diverse areas.
A number of agreements are expected to be signed covering cooperation in the field of nuclear technology for cancer cure, solar wind energy, air services and other areas, Anil Wadhwa, Secretary (East), said.
He said there was excellent potential for cooperation in the mineral sector between the two countries.  From Ulaan Baatar, the Prime Minister will fly to South Korea for meetings with President Park Geun-hye and other leaders.
The two sides are expected to sign a double taxation avoidance agreement besides pacts on enhancing cooperation in transport, highways and other fields.  Asked about the Posco issue, Wadhwa said there has been "considerable progress" on the Rs 52,000 crore (USD 12 billion) project in Odisha.
Billed as India's biggest foreign direct investment, the project has been delayed by more than five years due to protests by farmers who are agitating against giving up their fertile agricultural land.
The Prime Minister will return to Delhi from Seoul on May 19.