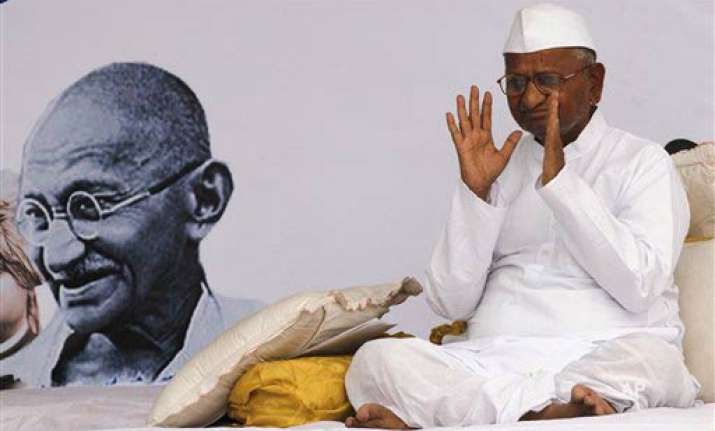 Jaipur, Apr 10: Retired army brigadier N L Verma, with whom Anna Hazare served as an Army driver during 1975, recollects the Gandhian as a shy and withdrawn person when he was serving in the Army, reports Times of India.
 
The success of  the charismatic social activist Kisan Bapat Baburao Hazare  in his battle against corruption may have made him a nationally revered personality,  but the retired brigadier says he was a shy person by nature.
 
"He worked as a driver in Maratha Regiment when I was serving as a Captain in ASC Regiment. We were together for quite a long time at Udhampur in 1975. He was a shy, religious and withdrawn person," 67-year old Verma said talking to Times of India  over phone from Bikaner.

"But look at him, he looks as big as father of nation Mahatma Gandhi today. Hats off to this man for the way he had fought this battle against corruption. I too wanted to participate with him at Jantar Mantar, but thought I would be another face in the crowd. Thus after getting inspiration from Anna I too started dharna and protests here in Bikaner."

"His success in this particular case has inspired me to continue battle against every kind of corruption in the society," Verma said.

Verma added that after retiring from Army, the way he had been successful in totally getting liquor out of his village and his efforts in water harvesting are commendable. "In this era, where corruption is everywhere, Anna has showed the way that rather than just criticizing the system, one should play an active role in removing the garbage."

Asked if Verma would advice Anna to contest elections to enter politics to eradicate corruption, he said, "I will never advise him to jump into the well. I think he should continue his good work in his own Gandhian way. I think his success would make every Indian to fight against corruption which they witness in day-to-day life."

The success of Anna was celebrated across the state as people in Jaipur, Jodhpur, Jhunjhunu and Ajmer burst crackers and distributed sweets. In Jaipur, people participated in a rally which ended at government hostel.