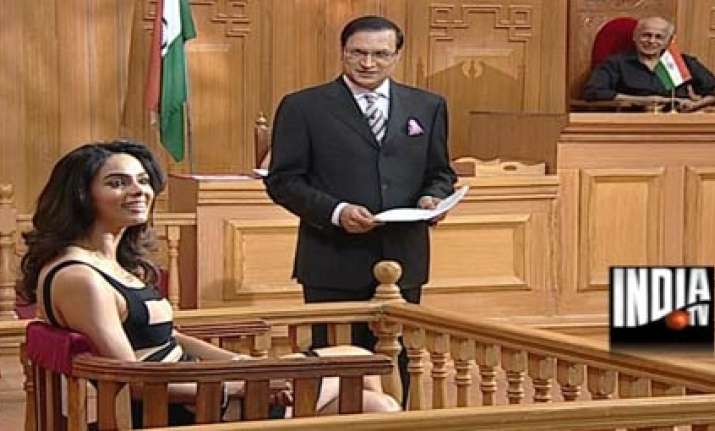 Bollywood actor Mallika Sherawat threw a challenge at law saying 'laga do hathkadi' (handcuff me) while replying to obscenity related charges in Rajat Sharma's longest-running show Aap ki Adalat on India TV.
"Nature has given me this beautiful body, if I flaunt this as my ornament, how does it matter to anybody. All other heroines in the industry also do kissing scenes and wear bikins on screen, but they don the garb of Sati Savitri. I am not hypocritical", said Mallika.
The feisty actor  pointed out that the court had dismissed a suit against her for doing a New Year Eve dance wearing a skin coloured outfit. "What can I do if people start thinking that I was dancing nude?", she asked.
"We talk of global cinema and in the same breath our thinking goes back to the 1920s and 1940s as far as kissing and nudity are concerned. Internet and cable TV has changed our younger generation's thinking like never before. My fans are very intelligent. They do not flock to see my film only for the kissing and nude scenes", the actor said.
Mallika revealed her intention of working with Bollywood star
Salman Khan
. She heaped praise on the Dabangg actor.
"Salman is a hero of the masses, the common filmgoers. These very common filmgoers made me a star. Secondly, our dress codes are similar too. I like the kind of films he does, full of masala and entertainment. The 'bad boy, bold girl' image will be a great combination", said Mallika.
The sexy actor admitted that she had made remarks like 'every male wants to touch me'. "Just wait for Hisss, I will make them lose their sleep", she says.
"I want to live life on my own terms. For that matter, I want every Indian boy and girl to live life on his or her own terms. We don't need anybody's permission. We are masters of our own destiny", she said amidst loud clapping from the audience.
Mallika said: "When Draupadi was being disrobed, nobody objected and everybody was watching the fun. People in our society did not refrain from casting asperions on Sita Mata. Males in Indian society consider a woman's body as their own property. Nobody objected to nude scenes in Bandit Queen. Then why Mallika? Because Mallika speaks the truth and I do what I say".
"What's wrong if I am selling boldness and obscenity? What wrong have I done. Hang me if you want. which film doesn't have kissing scenes? Even Sharmila Tagore wore bikini and Zeenat Aman exposed herself", said a fuming Mallika.
The sexy actor revealed how girls from small towns sent mails to her seeking how to become independent in a male-dominated society. "I did it my own way, they would have to find their own way", she said.
Mallika said, she was already working to stop female infanticide in Indian society. "I have spoken to the Haryana chief minister about creating awareness among women against female infanticide. I have got an e-mail from UN secretary general Ban Ki-Moon to work in a campaign against female infanticide", she disclosed.
DO NOT MISS  Mallika Sherawat in Rajat Sharma's AAP KI ADALAT show on India TV telecast on Saturday (Oct 23) at 10 pm and Sunday (Oct 24) at 10 am and 10 pm.