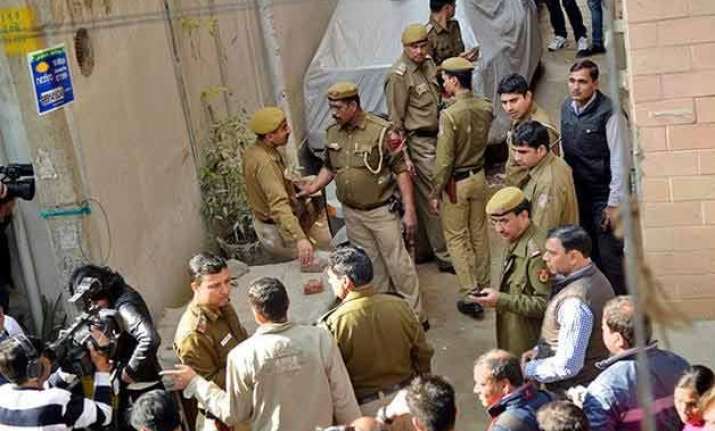 New Delhi:  The chilling accounts of the  ghastly murder of  three persons of a family at central Delhi's Old Rajinder Nagar area on Saturday has finally come to the fore. The killers hatched the plan expecting crores from the victim but after committing the dastardly crime what they got was a paltry Rs 40,000 and a few trinklets of fake jewellery.
Police said that the motive of the murders has turned out to be robbery as victim Sanjay, who was a government servant-turned-property dealer, had conveyed to Rajan that he had earned huge cash after the recent sale of a property and he needed to invest the money, for which he also sought Rajan's help.
Sanjay, who himself was an accused in at least nine cases of cheating and forgery and was in jail for six months during 2013-14, he met Rajan in the prison. They became friends and stayed in touch even after their release. Sanjay had also offered Rajan to be a partner in his property business, said police.
"Around a month ago, Sonaria had boasted before Rajan of receiving Rs 80 lakh as token money in two property deals which he further wanted to invest in property," a police officer told Hindustan Times.
"Anticipating pickings of no less than Rs 1 crore at Sonaria's house, Rajan along with his associates hatched the plan to wipe out the family and take the money," the officer said.
Rajan and four of his associates gained entry into Sonaria's house posing as potential clients,while two others kept a vigil outside. Two of them strangled Sonaria and stuffed his body into a cupboard Sonaria's son was next to be strangled. Jyoti was kept in the kitchen and she was the last to be killed.
After ransacking the three-bedroom flat for more than three hours, Rajan's gang ended up was Rs 40,000 in cash and artificial jewellery valued at a few thousand rupees. Each got a little over Rs 5,000 from a crime that is punishable with lifetime imprisonment.
Such was the dejection of the accused that they brought alcohol from nearby market and consumed it, For dinner, they ate what their victims had made for themselves that night.
Rajan, who was already an accused in the case of a murder of a woman in Dwarka, allegedly hatched the plan to kill Sanjay for the money he desired to invest and roped in others for its execution, police said.
Seven persons, including two juveniles, have been apprehended in connection with the murder of three persons of a family at central Delhi's Old Rajinder Nagar area, police said today.
The accused have been identified as Rajan Singh, Rajendra Singh, Sanjay Kumar, Harender, Ram Kishore and the two juveniles.
While Harender and Ram Kishore were arrested from their native village in UP's Bulandshahr, the others were nabbed from Delhi. One accused is still at large, DCP (Central) Paramaditya said.
On Sunday morning, Sanjay (50), his wife Jyoti (48) and their son Pawan (21), were found murdered at their third floor residence in Old Rajinder Nagar, and the house was found ransacked. Jyoti and Pawan's bodies were discovered first and later Sanjay's body was found shoved inside a closet.
The police registered a case of murder and as many as 25 teams were engaged in the investigation. Sanjay's brother, with whom he had a property dispute, initially turned out to be the prime suspect in the case, which sent the police teams into a tizzy.
On Tuesday, the police received a tip off, which led to the arrests of Rajan and Rajendra. They spilled the beans during interrogation and the others too were apprehended by midnight, said Paramaditya.