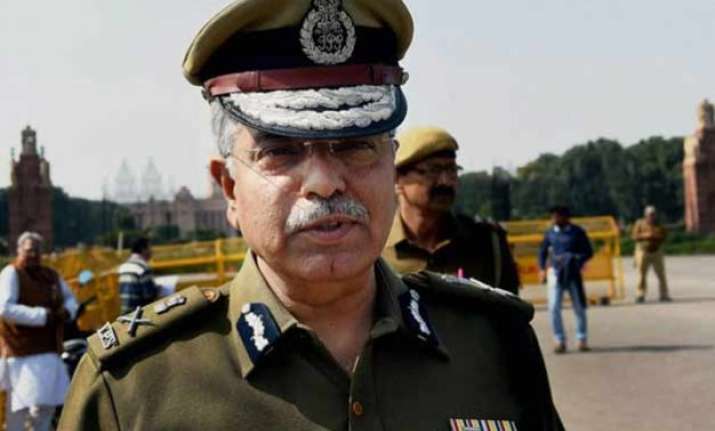 New Delhi: Ahead of his meeting with Chief Minister Arvind Kejriwal who has alleged deteriorating law and order situation in the city, Delhi Police Commissioner BS Bassi said police was accountable towards the "system" instead of any individual.
"Police is always accountable towards the system and not to any individual. We are answerable to the government and through it to Parliament," Bassi told reporters after meeting Lt Governor Najeeb Jung here.
The Chief Minister has asked the Delhi Police Commissioner to meet him today to discuss law and order situation in the national capital, in the wake of the gruesome murder of 19-year-old girl in central Delhi.
The victim Meenakshi was allegedly stabbed to death last week by two brothers living in her neighbourhood for protesting their verbal abuse.
Also Read: Arvind Kejriwal asks PM to devote time to Delhi Police
Bassi said he would meet the CM and "exchange ideas to prepare a robust security machinery in the city."
Referring to a complaint against Kejriwal by a constable over the formers alleged use of a derogatory word in describing cops, Bassi said the term was "unacceptable" but the offence was non-cognizable.
"So we have not registered any FIR. Would not like to advice anyone on his personal views and assertions.I take criticism in the right spirit, even if its is wrong, because only getting praised may give rise to ego. We abide by the Constitution, IPC, CrPC and relevant laws so no attack on us matter when we abide by the law," he said.
AAP has been at loggerheads with Delhi Police over a number of issues and the party has stepped up its attack against it after arrest of its two MLAs. It has been accusing Delhi Police of bias against it, saying its MLAs are being targeted under political pressure.
On AAP's demand for bringing Delhi Police under the city government, Bassi had said there is no need for any changes in its current administrative structure. Currently, Delhi Police functions directly under administrative control of Home Ministry.