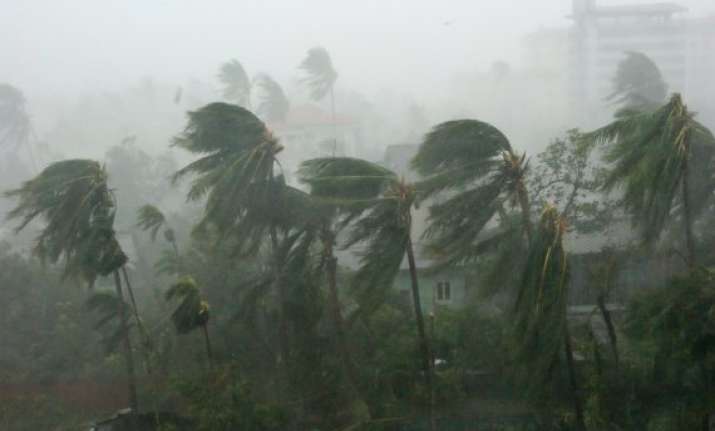 Kolkata: Cyclone Hudhud, which hit Andhra Pradesh coastal areas today, had little impact in West Bengal, at most scattered rainfall in parts of the state.
The coastal districts of the state which the MeT department had predicted would experience rainfall had no or little rain.
The day started with an overcast sky and as the day progressed a drizzle started, but that passed soon with some areas even witnessing sunlight peering through the clouds making it a pleasant Sunday.
A meteorologist at the Regional Meteorological Centre here told PTI that the day temperature came down by three degrees. The maximum temperature was around 30 degrees Celsius which is three degrees below normal.
Predicting that Cyclone Hudhud would loose its strength as it heads inland, a low pressure would be created in the area resulting in heavy rainfall in Gangetic West Bengal besides flooding neighbouring Jharkhand and Bihar, the meteorologist said.
He said that post-October 14, the low pressure would bring in heavy rain in the Sub-Himalayan West Bengal and Sikkim.  "In the next 24 hours the cloud cover will increase in West Bengal which will bring in more rain in the Gangetic West Bengal. After Tuesday, the low pressure which will be formed will cause rain in north Bengal," he said.
East Midnapore DM Antara Acharya said, "There has been no heavy rainfall here. It's mostly cloudy and there have been a few splashes of rain here and there in the district. Till now the situation is absolutely under our control."
The Digha Development Authority has meanwhile asked fishermen not to venture out in the sea till tomorrow. The sea at the popular sea resort witnessed high waves lashing at the guard wall.
A large number of tourists visited Digha, Mandarmoni, Bakkhali and Shankarpur hoping to witness Cyclone Hudhud.  Hotels are fully occupied, the state Disaster Management Department said.
A 24-hour control room has been opened at the state secretariat, Nabanna, to keep a stock of the situation in the coastal districts of the state.