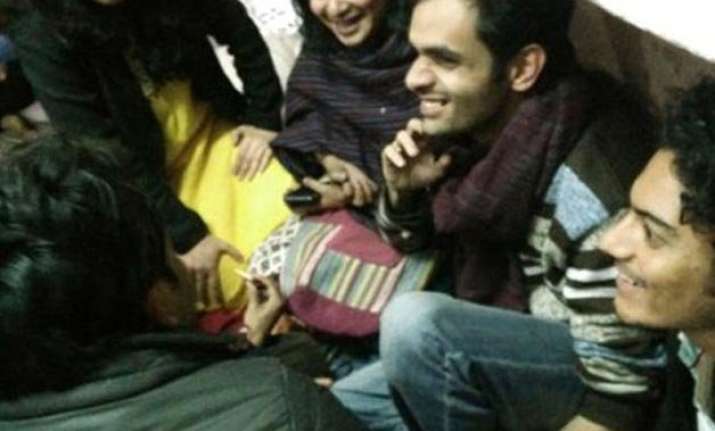 New Delhi: A court in Delhi today sent two JNU students – Umar Khalid and Anirban – to police custody for three days. Both students are charged with sedition in relation to a pro-Afzal event where anti-India slogans were allegedly raised. While the police was seeking custody of the two students for seven days, the court sent the two students to three days in police custody. 
Umar Khalid, the alleged mastermind behind the entire event, surfaced with four other students at the JNU campus late on Sunday night. Umar and Anirban later moved the Delhi High Court seeking protection in view of the attack on JNUSU leader Kanhaiya Kumar -- also facing sedition charges for the same event – while he was being presented before the court.
Both students surrendered before the police outside the JNU campus following a reprimand from the HC saying they need to follow due course of law. Both students, in their appeal to the HC, had sought the court's permission to surrender at a time and place of their choice, a plea that the HC judge had refused to entertain immediately.
The surrender cannot be at the whims and fancies of the accused students, the court had observed, indicating that the accused students should surrender before the police and join probe at the earliest.
Their surrender had come after a daylong standoff between the Delhi police and the JNU administration. Treading cautiously, Delhi Police chief B S Bassi had asked the accused students to surrender and join the probe. The students, on the other hand, had said that they would not offer any resistance if the police were to arrest them from the campus.
The JNU vice chancellor had refused to allow the Delhi Police to enter the campus. The decision was taken after a meeting with the JNU teachers association who had opposed the nmanner in which police entered the campus to arrest JNUSU president Kanhaiya Kumar.
Meanwhile, the police, in its report to the court, has claimed that Umar Khalid was the one actually responsible for organising the event. They have also said that Umar was the one who had requested the university's permission for holding an event on February 9.
While the requisition was that for a poetry reading event, what turned out was an event to commemorate the death anniversary of parliament attack convict Afzal Guru.     
Meanwhile, two lawyers who were seen on camera assaulting JNU students and teachers as well as journalists have been arrested by the police. While Yashpal Singh was arrested yeaterday before being granted bail, Vikram Chauhan was arrested by cops today.