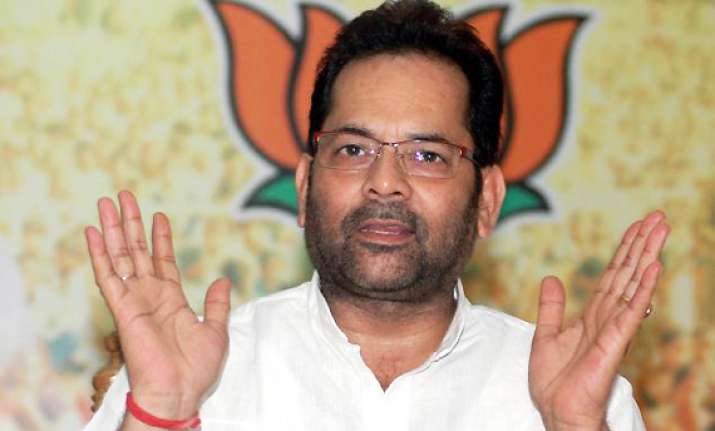 New Delhi, Dec 24: As poll schedules for Uttar Pradesh and four other States were announced, the Bharatiya Janata Party (BJP) on Saturday asked the Election Commission to remove top bureaucrats and police officials close to Chief Minister Mayawati accusing them of working as BSP "agents".

"We are ready for the elections. BJP welcomes the poll dates announced by the Election Commission today. We will fight the elections in Uttar Pradesh on the issues of corruption and crime which have increased manifold under Mayawati's rule," BJP vice-president Mukhtar Abbas Naqvi said.

However, the BJP feels free and fair polls in the politically crucial state of U.P. are not possible till police officers and top bureaucrats are removed from key postings.

"U.P. polls are crucial. So the top police and administrative officials who have conducted themselves as spokespersons and agents of BSP in the last four and half years should be removed from key postings. If this is not done they are likely to interfere in the poll process," Mr. Naqvi said.

A BJP delegation has already submitted to the Election Commission a list of top officials in U.P. who are said to be close to Ms. Mayawati.

The list includes the names of the present U.P. Cabinet Secretary and the DGP. Mr. Naqvi maintained scores of bureaucrats and police officers, even at the district level, were transferred and demanded revocation of these transfers.

The Congress party on Saturday hailed the announcement of Assembly poll schedule in Uttar Pradesh and four other States, saying the exercise will again show that it is the only pan-Indian party.

"The Congress is raring to go. It is fit as a fighting machine. It will show yet again that it is the only pan-Indian party with a strong presence in every nook and corner of the country," party spokesman Abhishek Singhvi said.