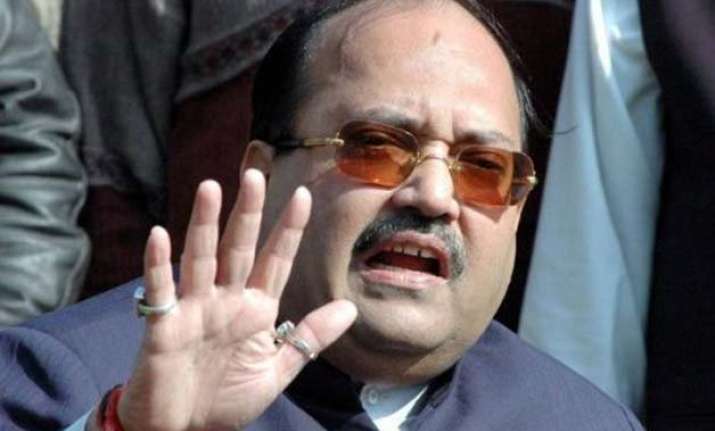 New Delhi: The special investigating team of Delhi Police, which is probing the Sunanda Pushkar murder case, today questioned Amar Singh over certain claims made by him regarding the case.
Amar Singh was reportedly asked twenty questions during the two-hour grilling. However, Singh refused to divulge the questions put to him.
"Amar Singh had claimed and also shared some information with the media. We are trying to ascertain the facts from him. We had called him today and the questioning must be under way," Delhi Police chief said on Wednesday.
Singh had earlier said that Sunanda was a brave lady and she could not commit suicide. The SIT was seeking more information from Amar Singh about the IPL controversy which has become centric to the probe.
The SIT of the Delhi Police can interrogate Shashi Tharoor again in this regard. Tharoor has already been examined by the SIT once. He was questioned by police on January 19 for around four hours at the office of Anti Auto Theft Squad (AATS) in South Delhi's Vasant Vihar. However, police officials had then refused to share Tharoor's answers during the questioning, saying any revelation would hamper the investigation.
Earlier, the SIT team questioned senior journalist Nalini Singh on January 23 for an hour in connection with the murder case of Sunanda Pushkar.
Afterwards, Nalini Singh said: "Police asked me the sequence of my talk with Pushkar, before her death. They also asked the IPL (Indian Premiere League) angle as well...I don't know what she wanted to say. But she wanted to speak about the IPL."
Sunanda was found dead in a 5-star hotel in South Delhi on the night of January 17 last, a day after her Twitter spat with Pakistani journalist Mehr Tarar over an alleged affair with her husband Shashi Tharoor. Since then, police has questioned a number of people in this connection including domestic aides of Tharoor, staff of the hotel where Sunanda was found dead, family friend Sanjay Dewan and the hotel doctor who pronounced her dead.