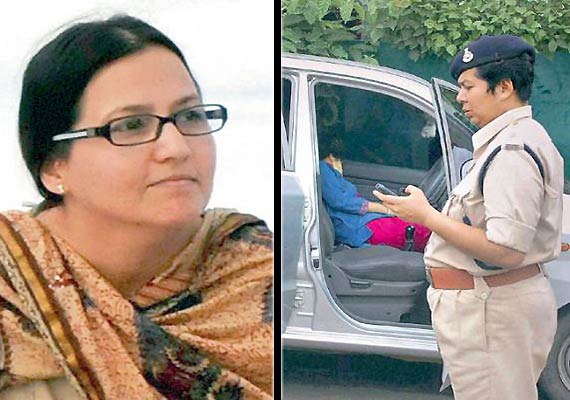 Bhopal/Kanpur, Feb 29: CBI on Tuesday arrested three persons, including a woman-architect and the alleged contract killer, in connection with the murder of Madhya Pradesh's RTI activist Shehla Masood here and claimed to have cracked the case.

Architect Zahida Parvez, who was called for questioning at the CBI office in Bhopal, and an alleged contract killer she claimed to have hired for the murder, were arrested, CBI sources said.

CBI sleuths also searched and sealed Zahida's office after arresting her, sources said, adding Zahida's husband owns a petrol pump in the city.

A third person, identified as Irfan, was arrested by Uttar Pradesh State Task Force in a late night operation in Kanpur, SP (Crime) Ashfaq Ahmad said. 

Zahida and the alleged contract killer will be produced in a designated court in Bhopal tomorrow, CBI spokesperson Dharini Mishra said in New Delhi.

Agency sources claimed Zahida has confessed before CBI sleuths that it was she who had ordered Masood's murder because she was suspicious of Masood's relations with her husband.

Pervez had reportedly told CBI that the killing was executed by the contract killer, whose identity was not disclosed by CBI, hired by her.

Ahmad said a team of UP STF from Lucknow picked up Irfan from a house at Talaq Mahal locality of Kanpur and was questioned.

Asked what role Irfan had played in the killing, Ahmad said it could be known only after his interrogation.

Some people of Talaq Mahal had created trouble when the STF team went to arrest Irfan but a large contingent of policemen kept the situation under control. 

On September 6 last year, CBI took over investigations into the murder as no witnesses were coming forward to share any information even as the shooting had taken place in broad daylight in a posh locality here.

Last month, the agency had doubled the reward money to Rs 10 lakh for providing information leading to the arrest in connection with the activist's murder who was shot dead outside her house at Koh-e-Fiza locality on August 16, 2011 when she was going to take part in protests in support of Jan Lokpal Bill.

Masood was an RTI activist who had worked in several areas including environment protection, conservation of wildlife and anti-corruption movement.