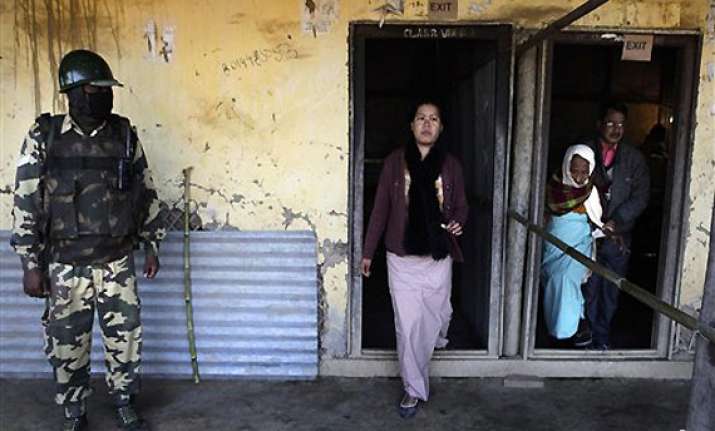 Imphal, Jan 28: An 82 per cent of the electorate today exercised their franchise in Manipur assembly elections marred by militants' violence that claimed five lives and left two injured.

Chief electoral offficer P C Lawmkunga said as per preliminary official reports, 82 per cent of the 17.40 lakh electorate cast votes but details from the nine districts in the state were yet to be received.

A CRPF man, three Village Volunteer Force personnel and a civilian were killed and two injured when miliants attacked an polling station in an interior area in Sugnu assembly constituency in Chandel district, official sources said. 

However, Lawmkunga said a voter, his supporter and a security man were killed in an exchange of fire at the Dampi polling station in the district.

Bombs suspected to have been planted by militants were seized and defused before the start of polling in Khurai Chingangbam area, Sawombung High School, Khomidok in Imphal East district and Naoremthong High School area in Imphal West district, official sources said.

Two CRPF personnel on poll duty were killed in an ambush by militants in Ukhrul district yesterday, the sources said.

The fate of Chief Minister O Ibobi Singh (Thoubal), Forest Minister and Congress leader Th Debendra (Jiribam), Congress nominee and Speaker I Hemochandra Singh (Shingjamei), former chief minister and NCP chief Radhabinod Koijam (Thangmeiband), Manipur people's party (MPP) leader and former deputy chief minister] L Chandramani Singh (Patsoi), were sealed in EVMs.

A total of 279 candidates were in the fray.