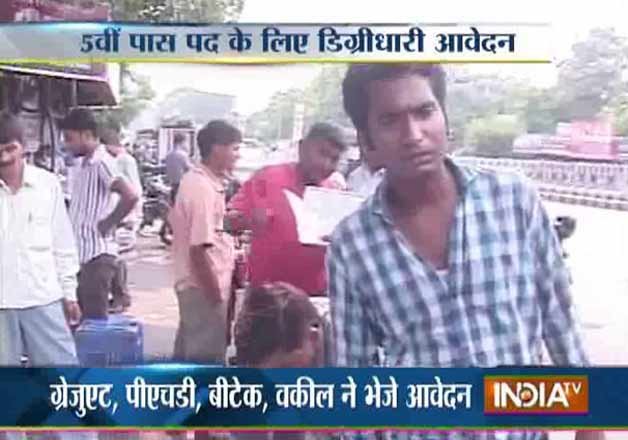 Lucknow: The unemployment is gripping the country with such an alarming rate that over 6,000 people apply for a peon's post, a job that was considered menial up until now.
For 368 posts of peon in the state secretariat of Uttar Pradesh, an overwhelming number 23 lakh people have applied i.e. around 6,250 applicants per post.
What comes as a shock for many is that among the applicants are professional degree holders including engineering graduates. Over two lakh applicants hold degress such as BTech, BSc, MSc and MCom.
Even 255 PhD degree holders applied for the post that falls well below their educational status.
The figure was provided by the department of Sachivalaya Administration, the body responsible for the appointments. Candidates could apply online for the post and the recruitment was to be done through Written Examination and interview.
"When we categorised the applications viz a viz a qualification, we were surprised to find that 255 doctorates have applied for the job," a senior secretariat administration official said.
He said that while more than 1.5 lakh graduates have applied for the job, the number of post graduates is 24,969.
High school or equivalent pass outs comprise the maximum numbers with more than 11.21 lakh applicants as compared to class five pass outs, whose number is 53,426.
Even class 12th job seekers outnumber the minimum qualification with more than 7.5 lakh candidates. While 1,405 candidates are in others category, 2,681 are unclassified.
The bright side of the all this is that the secretariat peons will be the most qualified and would be to do something their bosses can not do. But the biggest problem for the officials is to conduct the written exam and interviews of 23 lakh applicants that could possibly take years.
The minimum qualification for the post of peon is that the applicant should be a class five pass out and know how to ride a bicycle. The age of the applicant should be minimum 18 Years and maximum 40 years. The salary for the post was Rs 5,200-20,200 with a grade pay of Rs 1800.
This is not one of its kind incidents in the atmosphere of increasing unemployment. Just a fortnight ago, Chhattisgarh government's Directorate of Economics and Statistics cancelled the examination for 30 posts of peons after it received 75,000 applications. The recruitment eligibility criterion for this post was also the qualification up to Class V.
" Several engineers and post-graduates in arts and science also applied for the job," an official associated with the recruitment process had said after the exam was cancelled.