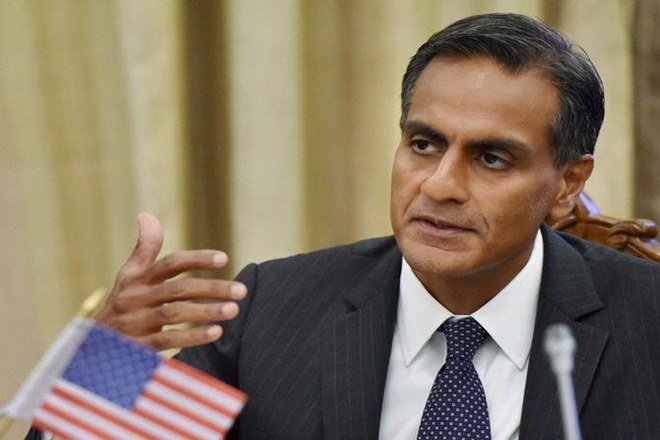 The United States has said that it supports the "cross-LoC strikes" carried out by Indian Army on the terror launch pads in Pakistan-occupied Kashmir.
In an interview to 'The Hindu', US Ambassador Richard Verma also said that US has drastically cut assistance to Pakistan in the past five years over concerns on terror.

 

"India took the action it thought was necessary to defend itself, which we understand," the US Ambassador said.
Richard Verma also admitted that the US had spoken to the Pakistani leadership regarding the need to crack down on the use of "proxies" as terror groups.

 

"We have also been quite tough on Pakistan, and right from the President, the Secretary of State, Secretary of Defence and NSA, about the need for Pakistan to crack down on its safe havens, to crack down on the use of proxies, to carry out terrorist attacks. We have to stand united and we stand in solidarity with India on that front," the US Ambassador said. 
Responding to a question on why the strong words by the US failed to have an impact on the the functioning of groups like Jaish-e-Mohammad and Lashkar-e-Taiba,  Richard Verma said that US military aid to Pakistan had dwindled 73 per cent over differences with the Pakistan government's action on terror.
"I think people may not know that US military assistance to Pakistan since 2011 is down 73 per cent, U.S. economic assistance to Pakistan since 2011 is down 54 per cent. $300 million of assistance has been withheld, and we have taken steps to protect our interests as well. The problem is a threat to Indian nationals, to Pakistani nationals, to citizens in the region," the US Ambassador said.
On India's membership to Nuclear Suppliers Group (NSG), the US Ambassador said that he was "optimistic" but would not commit on a timeline for India's entry into the 44-member group.
"We are engaged with every member of the NSG on India's candidacy. There is a lot of support for India's candidacy, let's not get ahead of the process," he added.