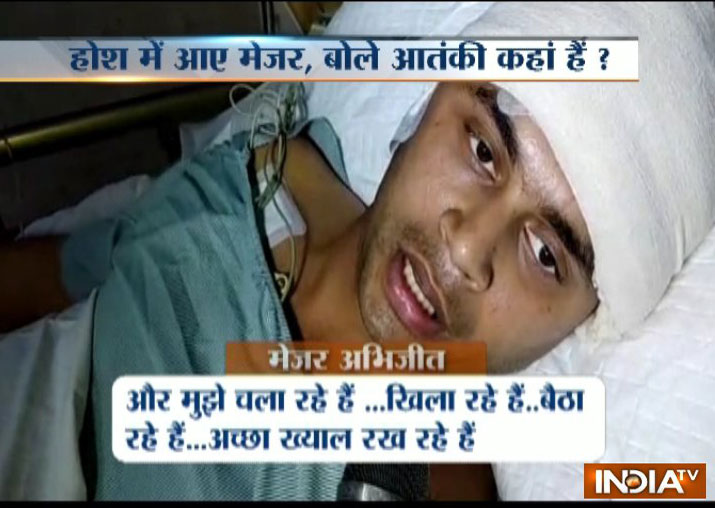 Major General Nadeep Naithani, Commandant of the Command Hospital (MH) Udhampur, today said that the first thing Major Avijit Singh asked after undergoing surgery, was the status of terrorists. 
Major Avijit of 6th Mahar regiment had sustained critical injuries on Saturday when terrorists had attacked the Sunjuwan Army camp in Jammu. He has been recovering in the Army hospital at Udhampur ever since.
According to Major Naithani, the morale of Major Avijit is very high despite being injured in the terror attack. 
"Soon after the surgery, he asked about what happened to the terrorists. He is raring to go. His condition is good," Major Naithani said .
Major Avijit, after recovering for the preceding four days, today spoke to media. He expressed hope that he will return to his unit soon. 
"I am feeling much better now. I can interact with doctors. I was able to sit and walked twice today. I was not aware what has been happening in the last 3-4 days," he told reporters.
Meanwhile, one more body of a soldier was recovered during searches inside the Sunjuwan army camp, mounting the death toll 7. The Army today said that body of the sixth soldier was recovered on Monday evening.
A group of heavily armed Jaish-e-Muhammad (JeM) terrorists entered the Sunjuwan army camp on February 10 after hurling grenades and using automatic gunfire. Three terrorists, all of them Pakistan nationals who managed to enter the Junior Commissioned Officer's residential quarters, were killed in the anti-terror operation by the security forces.