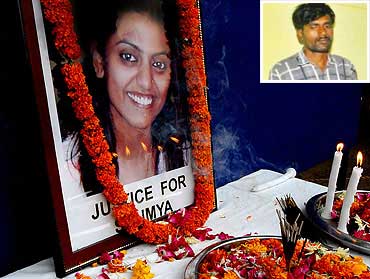 The Supreme Court today commuted the death sentence of Govindachamy, the convict in the Soumya murder case, to a seven-year jail term.
A three-member bench headed by Justice Ranjan Gogoi quashed the death sentence awarded to Govindachamy by the Thrissur fast track court in November 2011 that was later upheld by the Kerala High Court in December 2013.
The bench, in its order, held Govindachamy guilty of rape but said that the murder charge was not proved beyond reasonable doubt.
"Insofar as the offence under Section 376 is concerned, it is reasonably clear to us that it has been proved. However, as far as the charge under Section 302 is concerned, it is mostly circumstantial, not proved beyond reasonable doubt," the bench said.
23-year-old Soumya was travelling in the Kochi- Shornur passenger train on February 1, 2011.
According to prosecution, Govindachamy pushed Soumya out of the slow moving train after trying to rob her. He also jumped off and then allegedly hit her head with a stone and raped her.
Soumya succumbed to her injuries at the Government Medical College, Thrissur on February 6.
Soumya's mother broke down before media today after she came to know of Supreme Court's order commuting Govindachamy's death.

 

She slammed the Kerala government and prosecution lawyer for failing to produce concrete evidence against Govindachamy in this case.

 

Soumya's mother, however, expressed her resolve to go to any extent in order to get justice for her deceased daughter.