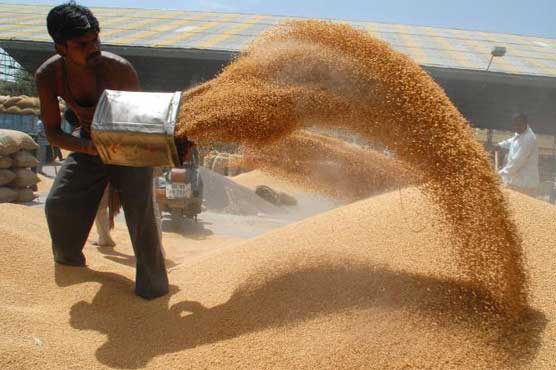 The rain which brought respite from hot weather in North India has also spelt doom for several farmers in Punjab And Haryana as they fear damage to the wheat crop. 
According to the MeT office, rains lashed Amritsar, Kharar, Muktsar, Kapurthala, Sangrur, Adampur, Pathankot, Talwandi Sabo, Anandpur Sahib, Dhuri, Faridkot and Nangal in Punjab.
In Haryana, Dabwali, Kurukshetra, Pehowa, Bhiwani, Kaithal, Jhajjar, Karnal and Panchkula were among other places to be lashed by rains.
Chandigarh too received a heavy downpour in the morning today.
The rains have increased worries of wheat farmers as heavy showers are harmful for ripening wheat crop.
"We are praying to God that it should not rain during these days. If rains are accompanied by strong winds, then they can inflict heavy damage to the ripening crop," Dilawar Singh, a Patiala based farmer said.
The rains have caused fear of crop damage in farmers who have ripe crops in the fields, as well as those who have already taken the yields to the markets, as the governments are yet to start procurements. 
A farmer in Haryana's Fatehabad said that the rains will turn wheat grains black, causing their prices to drop. 
Meanwhile, farmers who have already taken their produce to the markets are also in worry as the grain markets lack appropriate storage facilities. In several places, the storage units do not have plastic sheets to cover the sacks of grains. 
Thousands of tonnes of wheat has gone to waste due to lack of waterproof shelters in Haryana's Sonepat, Karnal and in Punjab's Bathinda. The situation is similar in other parts of the states as well. 
The rains, which are unusual during this time of the year for Punjab and Haryana, were caused by the western disturbances, a MeT official said here.
He said that a fresh western disturbance as an upper air cyclonic circulation now lies over north Pakistan and neighbourhood.
Another upper air cyclonic circulation also lies over Haryana adjoining western Uttar Pradesh, which is likely to bring more showers in the region over the next two days, he said. 
The governments usually start procurement of the wheat crop in April first, but the farmers have alleged that this year the process has not started yet.
(With inputs from PTI)
Watch video: