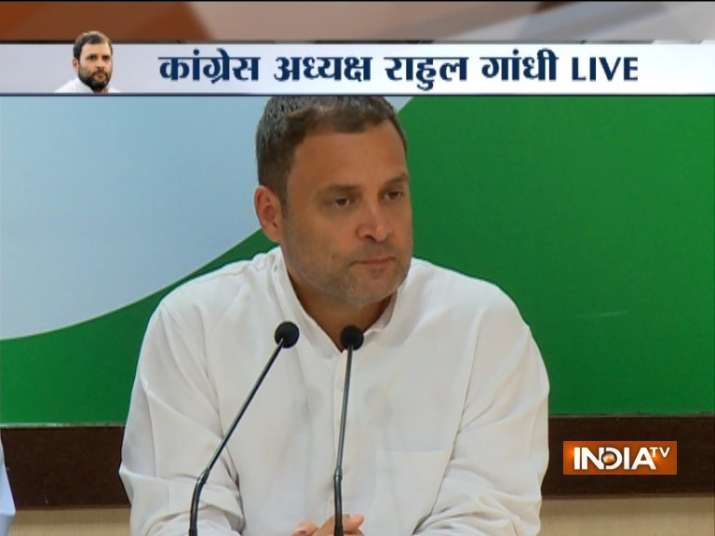 Congress President Rahul Gandhi on Wednesday said that Me Too campaign was a 'big issue'. However, the opposition leader did not have a ready comment on the movement yet and said he will give his detailed view on the matter at a later press conference.
"Me too issue is a big issue. I will comment on this issue and give my detailed views at a further press conference," said Rahul Gandhi during a presser in New Delhi today. 
Meanwhile, Union Minister Smriti Irani also refused to defend her colleague and fellow partyman MJ Akbar, who has been accused by several of his former female colleagues. 
#WATCH Congress President Rahul Gandhi says, "#MeToo is a very big issue. I will comment on it in a further press conference." on journalists asking him about his views on MeToo & #MJAkbar pic.twitter.com/toCBCuR8yP

— ANI (@ANI) October 11, 2018
As the #MeToo campaign gathered momentum in India, some women journalists have come out and accused Akbar, a former editor and now the minister of state for external affairs, of sexually harassing them during his stint as a journalist. Akbar was an editor of many publications before he took to politics. 
Speaking to media in New Delhi today, Irani supported the women coming out to report workplace harassment through the Me Too movement. 
"Women don't go to work to be harassed. They go to work to live their dreams and earn a respectable living. I am hopeful that all these ladies who are speaking out get the justice that they deserve," Irani said. 
A former TV actor, the minister for textile further added that the the gentlemen concerned (Akbar) would be better positioned to speak on this issue. "I appreciate that the media is accosting his female colleagues...Anybody who is speaking out should in no way be shamed, victimised or mocked," she said. 
Earlier Congress party had demaned an immeidiate resignation from Union Minister MJ Akbar. 
Congress  spokesperson S Jaipal Reddy on Wednesday said Akbar must either offer a satisfactory explanation on the allegations of sexual harassment against him or resign immediately.
The opposition party also hit out at External Affairs Minister Sushma Swaraj for not responding to a question on action against her junior minister after allegations were levelled against him, terming it "extremely unfortunate".
Reddy said in a press conference that, "I think Mr MJ Akbar must either offer a satisfactory explanation or must resign forthwith. How can he be in the Ministry with this serious allegation being levelled against him by a responsible journalist who worked with him?"
"Let there be an inquiry into this. We demand an inquiry in Shri MJ Akbar's conduct," he said.