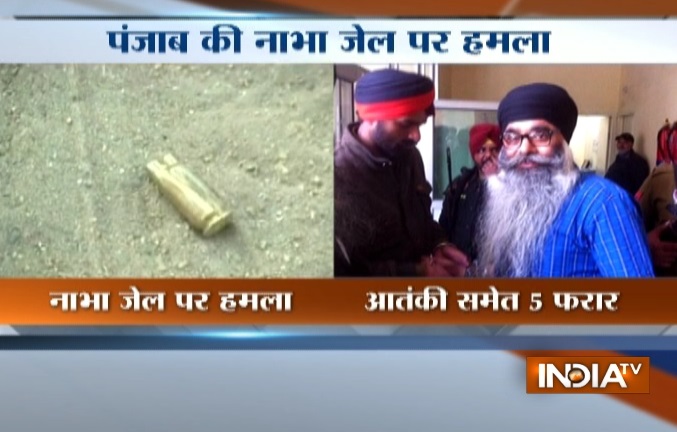 Armed men attacked the high security Nabha Jail in Punjab and freed Khalistan Liberation Force terrorist Harminder Singh Mintoo and four others on Sunday, police said.
The attackers, dressed in police uniforms, breached the tight security of the Nabha Jail with at least 100 rounds fired during the attack, jail officials said.
Mintoo and another terrorist Kashmir Galwadi were among those who escaped around 9.30 a.m from the jail premises.
Gangsters Vicky Gonder, Gurpreet Sekhon, Neeta Deol and Vikramjit also escaped.
The Punjab Police and security agencies have cordoned off the area and a massive search operation has been launched to nab the escaped prisoners.
The attackers, about 10-12 in number and carrying weapons, entered the jail premises in two cars, including a Toyota Fortuner SUV.
The attack took place when the prisoners were brought out of their barracks for morning chores, jail sources said.
The jailbreak took place just two months before crucial assembly elections in Punjab early next year. The incident is being seen as a major security breach and intelligence failure.
Several top terrorists, gangsters and criminals are lodged in the Nabha Jail, which has maximum security among Punjab prisons and is about 100 km from Chandigarh.
Meanwhile, the Punjab government suspended the DGP Jails and dismissed two jail officers following the sensational jailbreak at the maximum security Nabha prison.
"We have suspended the DGP Jails. We have dismissed the Jail Superintendent and his deputy," Deputy Chief Minister Sukhbir SIngh Badal, also the Home Minister, told the media.
"There is nothing to worry. We will catch them. One encounter has taken place. Whosoever responsible will not be spared," Badal said.
Armed men attacked the Nabha Jail on Sunday morning and fired over 100 rounds to help two terrorists and four dreaded gangsters to escape without any retaliation from the jail security and Punjab Police.
(With IANS inputs)