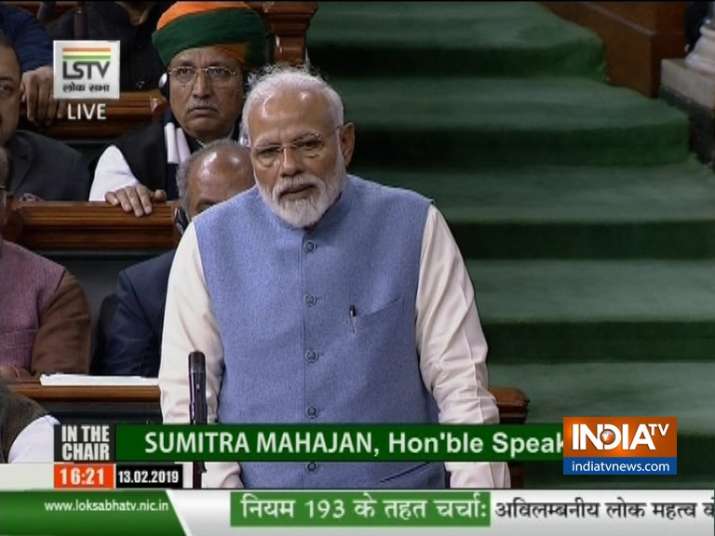 In his last Parliament speech before the 2019 Lok Sabha elections, Prime Minister Narendra Modi underlined that India's self-confidence has reached an all time time in the last five years. Highlighting the achievements of his government, PM Modi said that India has become the fastest growing economy in the world. PM Modi also took a swipe at Congress president Rahul Gandhi over his famous wink and 'jhappi' (hug) to him. 'Pahli baar pata chala...gale milna aur gale padna kya hota hai," PM Modi said. 
PM Modi took potshots at Rahul Gandhi, saying the Congress president's claim of an 'earthquake' if he speaks on Rafale jet deal fell flat.
He said India suffered globally for long due to fractured mandates. But now it is taken seriously in the global arena because of the majority government, he said.
The PM maintained that neither he nor External Affairs Minister Sushma Swaraj are responsible for India's enhanced image globally.
He said the credit goes to the majority the government enjoys in Lok Sabha. The credit, he said, goes to the people of the country.
Referring to the achievements of his government, he said, India has become the 6th largest economy and is fast moving towards being a USD 5 trillion economy.
Highlights of PM Modi's Lok Sabha speech:
1) I want to appreciate the role of Speaker Sumitra Mahajan Ji in conducting the proceedings of the House.
2) Several sessions in this Lok Sabha had good productivity. This is a very good sign. I appreciate Venkaiah Naidu Ji, late Ananth Kumar Ji for their service as Ministers for Parliamentary Affairs.
3) India's self-confidence is at an all time high. I consider this to be a very positive sign because such confidence gives an impetus to development.
4) The world is discussing global warming and India made an effort in the form of the International Solar Alliance to mitigate this menace.
5) It is this Lok Sabha that has passed stringent laws against corruption and black money.
6) It is this Lok Sabha that passed the GST. The GST process revealed the spirit of cooperation and bipartisanship.
WATCH: PM Modi's last speech in Lok Sabha before Lok Sabha polls