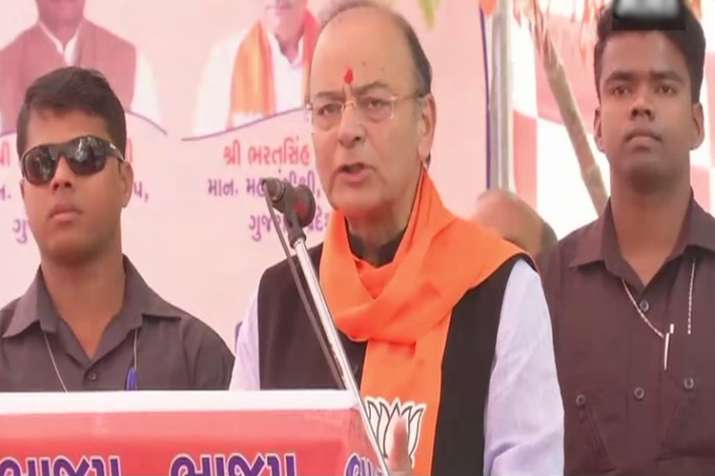 Finance Minister Arun Jaitley on Sunday lashed out at Pakistan for releasing 26/11 Mumbai attacks mastermind Hafiz Saeed from house arrest. 
"Agar unhone (Pakistan) aaj ke kaand (26/11 attack) se 2 din pehle us apradhi (Hafiz saeed) ki rihayi ki hai, to puri duniya ek aawaz me bol rhi hai, ki aisa desh jo aatank ka samarthan karta hai, uske liye puri duniya ke parivaar me koi jagah nahi hai (Pakistan released accused Hafiz Saeed two days before 26/11 attacks. The entire world is now speaking up against it, saying a country that supports terrorism would not find a place in the global arena)," said Jaitley while addressing a rally at Surat.
"Pichhle 8 mahine se ye haal hai, ki jo Lashkar ka commander banega wo zyaada din nahi bachega (In state of affairs in 8 months is such that no Lashkar commander will be able to survive for long)," added Jaitley.
Further, the Finance Minister shed light on the improvement in the situation in Jammu and Kashmir, attributable to a cash squeeze that was brought about due to the rollout of the demonetisation drive on November 8 last year.
"When Prime Minister Modi took over, there was civil disobedience in Kashmir. Thousands of people gathered to throw stones, terrorist activities were on the rise and the Hurriyat leadership called for Bandhs as and when they wanted. But now, after the demonetisation drive, there is no cash available to gather stone-pelters, and this cash squeeze has helped curb violence," he said.
Earlier in the day, Prime Minister Narendra Modi, in his address to the nation through radio programme Mann Ki Baat, paid tribute to people who lost their lives in 2008 Mumbai attacks. 
The United States has also condemned the release of Hafiz Saeed, and has warned Pakistan of "serious repercussions" if he is not immediately re-arrested and prosecuted.