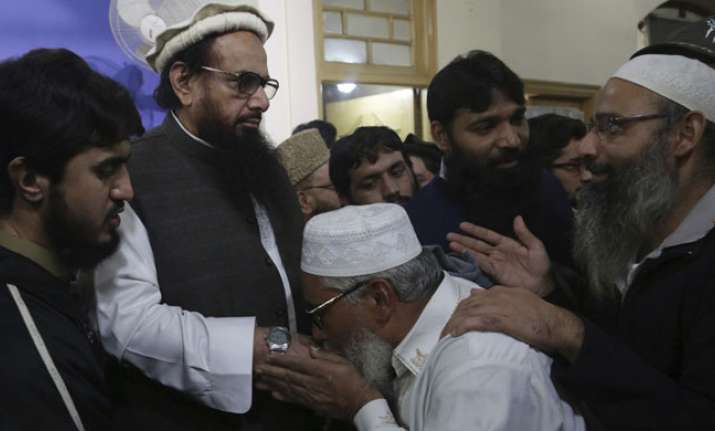 The United States on Saturday condemned the release of Lashkar-e-Taiba (LeT) founder and Jamaat-ud-Dawa (JuD) chief Hafiz Saeed, calling it a "step in the wrong direction" for US-Pakistan relations, and added that a refusal to re-arrest him would have "serious repercussions" for bilateral ties and Pakistan's reputation.
"The United States strongly condemns the release of Lashkar-e-Tayyiba leader Hafiz Saeed from house arrest in Pakistan and calls for his immediate re-arrest and prosecution," the White House press secretary's office said in a statement.
"Saeed's release, after Pakistan's failure to prosecute or charge him, sends a deeply troubling message about Pakistan's commitment to combating international terrorism and belies Pakistani claims that it will not provide sanctuary for terrorists on its soil.
"If Pakistan does not take action to lawfully detain Saeed and charge him for his crimes, its inaction will have repercussions for bilateral relations and for Pakistan's global reputation."
Hafiz, who had been under house arrest since January this year for his role in terror activities, was on Friday set free after the Pakistan government decided against detaining him further in any case.
Soon after his release, the JuD chief said that he will gather people across Pakistan for the "cause of Kashmir" and help the Kashmiris secure "freedom". "I fight the case of Kashmiris. I will gather the people from across the country for the cause of Kashmir. And we will try to help Kashmiris get their destination of freedom."
"I am very happy that none of the allegations against me proved as three judges of the Lahore High Court ordered my release ...India had levelled baseless allegations against me. The Lahore High Court's review board decision has proved that I am innocent," Saeed said. The JuD chief said that the US, on India's request, pressured Pakistan to detain him.
"... I was detained on the pressure of the US on the Pakistani government. The US did so on the request of India," he claimed.
Ten LeT militants killed 166 people and injured dozens in Mumbai on November 26, 2008. Nine of the attackers were killed by police while lone survivor Ajmal Kasab was caught. Kasab was executed after a court found him guilty and handed down death sentence. Saeed was declared a global terrorist by the US and the UN over his alleged role in the attack.